DU professor devises new techniques to extract fingerprints
Hindustan Times |
, New Delhi
A Mariyam Alavi
Feb 24, 2018 11:06 PM IST
GS Sodhi, after almost ten years of research, has developed three patented chemical methods to extract fingerprints even if the prints are doused with water, buried in soil, or burnt and covered in soot.
GS Sodhi wanted to become a police officer as a child; a dream that was quashed when he got diagnosed with colour blindness. Now an associate professor of chemistry at Delhi University's Sri Guru Tegh Bahadur Khalsa College, he is living his dream to nab criminals in a different way — by perfecting methods of fingerprint collection.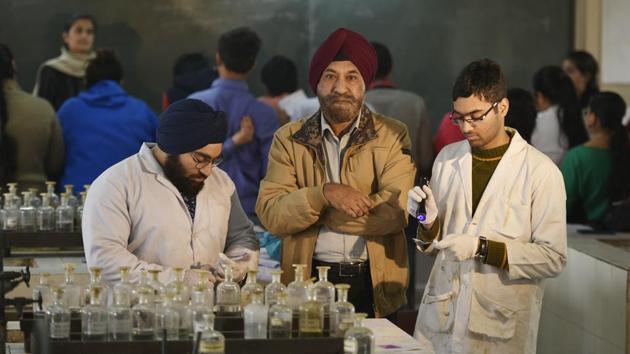 Sodhi, after almost ten years of research, has developed three patented chemical methods to extract fingerprints even if the prints are doused with water, buried in soil, or burnt and covered in soot.
He received the Union home minister's research and development award for his work in forensic chemical sciences from Rajnath Singh on February 10.
"Fingerprints are the most infallible means of identification. But the criminal is getting increasingly clever now, because he is better educated these days and may have seen things in movies or TV," said Sodhi.
According to Sodhi, criminals sprinkle water on their prints, burn the crime scene or bury the weapon to make it hard to extract their fingerprints, as conventional methods rely on the soluble components in one's sweat to read the impressions.
Sodhi has developed three patented methods to help in such situations, by creating chemical reagents that react with the non-soluble components in sweat and fingerprints.
"The first one is a suspension of a small particle reagent in water. It reacts with the fatty acids or oils in the sweat, and is also fluorescent in nature under a good source of light. The fluorescence enhances the visibility of the prints," explained Sodhi.
He has also developed a phase transfer catalyst spray, which reacts with the metal ions in one's sweat, and a nano particle sized powder, which needs minimal water to bind with it and reveal one's prints. While the preparation of the reagents can take 10-30 minutes, the collection of the fingerprint is a two minute job.
Sumit Kumar, a scientific assistant at the Regional Forensic Science Laboratory in Chanakyapuri, said that water, dirt and soot, create "disturbances" in the fingerprints, making it difficult to lift and match, even though it was not a common occurrence. Delhi Police spokesperson Dependra Pathak, said that in addition to these, even rough surfaces pose a problem, and appreciated the efforts to help in such situations.
Research and training
However, developing new methods is just the first hurdle to cross to be able to better solve cases using forensics, says Sodhi, who did his PhD in inorganic chemistry before veering into forensic sciences. He said that without more research in the field, and proper training of police officials, we are still a far way behind the desired goal.
"When a crime happens nobody looks for a forensic scientist. Police officers are the first responders at a crime scene. They need to be trained, and told how they should wear gloves, restrict the entry and exit of people from the area, and collect as many samples as possible quickly, because things like blood degrades with time," said Sodhi.
Pathak said that all police officers are trained in fingerprint collection methods as part of their curriculum though many a times the residents rummage through their belongings, before the police reaches, that contaminate the site.
At DU, there is a department of forensic medicine which offers undergraduate and MD courses in forensic medicine. The department of anthropology also offers an MSc and a certificate course in forensic sciences. SGTB Khalsa also offers a PG diploma in the subject. But Sodhi has been pushing for a BSc honours in forensic sciences at the university and his college, but to no avail.
Registrar Tarun Das confirmed that the academic council of the university had approved such an undergraduate programme at SGTB Khalsa College around two years ago. The principal of the college, Jaswinder Singh, said that the plans have been stalled because of the question of how to finance the course, as the UGC has asked them to run the course in self-financed mode, and the university had disagreed.
"We would have started the course by now, but we have to take both the UGC and the university on board first. Ideally, it should be a UGC financed course," said Singh.