Farmers' protest: An apology for 'inconvenience' issued by farmers
Dec 01, 2018 09:04 AM IST
"We are farmers. We do not intend to annoy you. We are upset. We have come from distant places to make you and the government our voices heard
"We are farmers. We do not intend to annoy you. We are upset. We have come from distant places to make you and the government our voices heard. We just need one minute from your time," read a pamphlet distributed by protesting farmers to residents in the capital on Friday. The pamphlet is titled " Forgive us! Our march will cause inconvenience to you."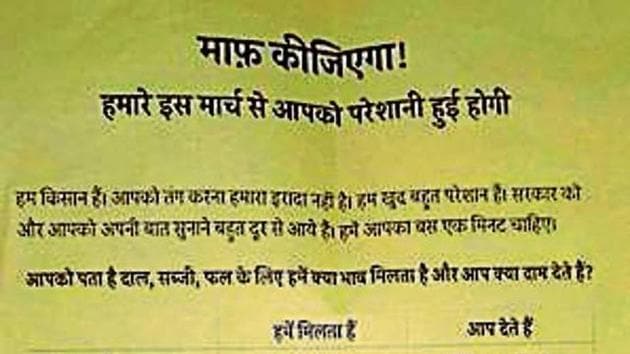 The pamphlet printed in Hindi on a yellow paper was shared widely across social media, including Delhi Chief Minister Arvind Kejriwal's Twitter handle. It even made it to several users' WhatsApp display picture.
It claims that farmers bought raw material at a high price but sell their produce at lower prices, leading to a crisis in the agricultural sector.
It listed four products, dal, tomatoes, apples and milk alongwith prices the farmers get and the cost that a customer pays.
"You know at what price you get dal, vegetables and fruits and what price do we get. We get Rs 46 per kg for moong dal and you pay 120 per kg. We get 5 per kg for tomatoes and you pay Rs 30 per kg. We get Rs 10 for apples and you pay Rs 110. We get Rs 20 per litre for milk and while you pay 42 per kg," it read. "This is our problem. We earn everything expensive and sell our produce on cheap prices, Our lives, too, are cheap. More than 3 lakh farmers have committed suicide in India in last 20 years."
"The key to solution lies with the government. But they don't listen to us. All we are demanding is a special session of parliament to discuss agrarian crisis. Isn't our demand justified?" it asks
The agitating farmers were part of the march to demand 21-day special session of parliament to discuss issues like prices and loan waivers.
"If you agree with us then walk two steps in this march. It will boost our morale," the message signs off.
"Exciting news! Hindustan Times is now on WhatsApp Channels
Subscribe today by clicking the link and stay updated with the latest news!"
Click here!