Few turn up on Day 3 of Anna Hazare's hunger strike in Delhi; leader loses 3.5 kg after fasting
Hindustan Times, New Delhi |
A Mariyam Alavi
Mar 26, 2018 11:51 AM IST
On Saturday, there were around 2,000 people, and on Sunday, less than 1,500 turned up at Ramlila Maidan in New Delhi.
Less than 1,500 people turned up at Ramlila Maidan on Sunday — Day Three of Anna Hazare's indefinite hunger strike for the rights of the farmers, electoral reforms, and for a Lokpal at the Centre and Lokayuktas in every state.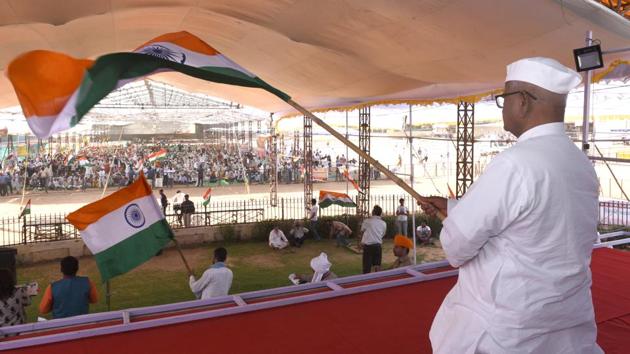 Hazare, who had grabbed headlines seven years ago with his India Against Corruption movement at Ramlila Maidan, had returned to the protest venue on Friday to launch a fresh agitation.
Stay tuned with breaking news on HT Channel on Facebook.
Join Now
Sources said Hazare has reportedly lost 3.6 kilos as of Sunday afternoon, after three days of fasting. Three of 227 people fasting with Hazare reportedly fainted from exhaustion on Sunday.
Around 3,000 people had turned up at Ramlila Maidan on Friday with the crowd steadily dwindling ever since.
On Saturday, there were around 2,000 people, and on Sunday, less than 1,500 people turned up at the ground. This is only a fraction of the number of people who had turned up for the India Against Corruption agitation in 2011, which had witnessed a packed ground.
People have attributed the thinning of crowds to multiple reasons, including the absence of a strong anti-incumbency sentiment that had accompanied the 2011 agitations, the harvest season that kept a number of farmers from turning up, and the lack of prominent personalities which could draw crowds and media attention.
Shiv Bhagwan Pandey, a farmer from Sitapur in Uttar Pradesh, who had turned up at Ramlila Maidan on Sunday to demand better facilities, including loan waivers and fixed fair prices for his produce, said many of his peers back home could not come because of the harvest season. "Even though they are suffering, they could not come here, because it will make the situation worse for them if they leave their fields unattended right now," he explained.
Others like Sanjay K Deshmukh, an IT engineer from Pune, and Rahul Thampi, a Mayur Vihar resident who works in the tourism sector, argued that a lack of "prominent faces" such as Kiran Bedi, Baba Ramdev, and Arvind Kejriwal, had meant fewer people coming to the protests and low media coverage.
Jaykant Mishra, the chief media coordinator and the core committee member for the ongoing protest, admitted that this might be true. "The people who had joined with malafide intentions last time aren't here today and their supporters are also missing. Also, most political parties have a kisan wing, and people think that if their party is in power, they do not need to oppose," he explained, while also alleging that the cops had turned away many farmers from the Delhi borders and were discouraging people from the gates from entering. Mishra said Hazare would be writing to the Union home minister soon asking him to withdraw the forces from the ground's gates.
Delhi police denied the allegations made by Mishra and said there was no reason to stop anyone from entering the grounds.
"The problems of the farmer are not issues for the middle class man... But also, people are not as angry with the current government as they were with the previous government in 2011. There are people opposing the government's policies, but there are a lot of supporters of the regime as well . This could be a reason as to why there are fewer protestors this time," he said.