Five years of AAP: Kumar Vishwas says party has drifted from its vision
Nov 27, 2017 12:24 PM IST
In his 30-minute speech at the AAP convention, Kumar Vishwas voiced his grievances as senior party leaders Manish Sisodia, Ashutosh, Gopal Rai, and others, looked on from the stage.
Founder-member and senior leader of Aam Aadmi Party (AAP), Kumar Vishwas, on Sunday continued to air his differences with the party's top leadership by saying that the party had drifted away from its vision that it set five years ago.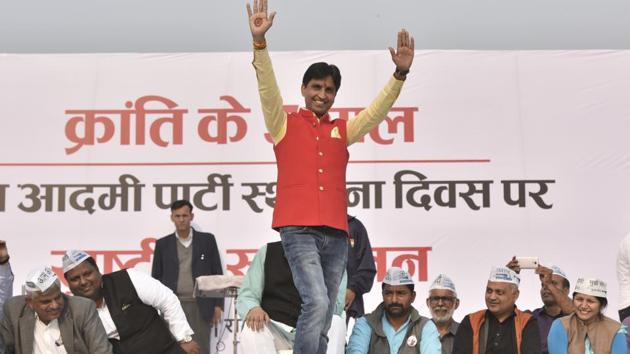 "We have deviated from the vision that we set ourselves five years ago," Vishwas, the poet-politician said, in a direct attack on the party leadership while addressing AAP's national convention here on Sunday.
"We need to introspect," Vishwas added in his 30-minute speech while referring to 'some' leaders who have forgotten Anna Hazare, the 'creator' of the anti-graft movement.
Expressing his grudge, Vishwas said he was not provided a chance to speak in the last few months.
"I haven't spoken in the last seven-eight months... I was not listed in the name of speakers in the national council," Vishwas said while senior party leaders Manish Sisodia, Ashutosh, Gopal Rai, and others, looked on from the stage.
Vishwas, the Rajasthan in-charge of the party, was not included in the list of speakers at the AAP's national council meet held in the first week of November. He has been unhappy after suspended MLA Amanatullah Khan was reinstated in the party in October this year. Khan, the Okhla MLA was suspended over his tirade against Vishwas.
Khan, who was present at the stage, was spotted leaving soon after party's national convener, Arvind Kejriwal came and sat next to Vishwas.
Without naming anyone, Vishwas also suggested that estranged leaders of the party should be welcomed back in the party.
"Many people have left us due to various reasons. I do not want to name them. But we are thankful to them, I hope that we reach out to them again and welcome them back to save the nation against other parties," he said, referring to party founders and now-expelled members Yogendra Yadav and Prashant Bhushan. He also showered praises on the Delhi government for its successes.
Vishwas also said he would stay with the party till his death.
"Conspirators said I may leave the party. I am making the announcement today that I am not going anywhere. I am Abhimanyu, my victory will be in my death. I am here to stay in the party," Vishwas said, drawing parallels with the mythological character from Mahabharata.
Speaking a few hours later, party's senior leader, Arvind Kejriwal made a veiled reaction to Vishwas's comments.
"Whenever there is a conflict between party and nation, you should chose the later that is more important," the CM said.
Senior leader Gopal Rai said, " We have to keep in mind that we represent thousands of common people of the country. No body among us should be concerned about their self."