JNU protests: FIR against student union members for 'siege' at V-C's office over attendance policy
Feb 16, 2018 11:52 PM IST
At least 500 JNU students gathered at the off-limits 'freedom square' to protest a new attendance policy, blocking the administrative offices in a bid to force a dialogue with vice chancellor M Jagadesh Kumar.
Hours after students allegedly confined Jawaharlal Nehru University (JNU) officials in the administrative block and "pushed" teachers who had come to their rescue, JNU's student union members were booked for "wrongful restraint" and "voluntarily causing hurt" during their 15-hour "siege" on Thursday and Friday.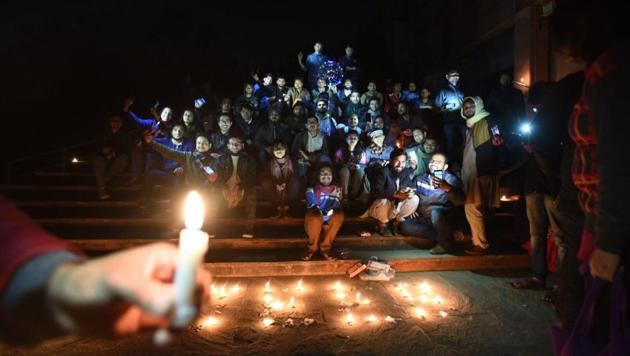 The FIR against the students came on a day the Delhi high court issued an interim order, asking them not to obstruct officials from entering the building.
Stay tuned with breaking news on HT Channel on Facebook.
Join Now
Monika Bhardwaj, additional deputy commissioner of police (south-west), said a FIR had been registered at the Vasant Kunj (North) police station.
Another investigator said the FIR contained the names of the students who were mentioned in a complaint filed by the JNU security. The registrar said the security named all four JNUSU members, though he had not seen the FIR.
In high drama at the university, over 500 students gathering at the off-limits "freedom square" from 11 am on Thursday till around 2 am Friday, allegedly confined administrative officials inside the building.
The students were demanding that vice-chancellor M. Jagadesh Kumar come out and hold a dialogue with them on the new attendance policy. But unknown to the students, the V-C had left the building; the "siege," and the consequences may have really been for nought.
The students have been protesting a new mandatory attendance policy in the university and regularly assembling outside the administrative block since February 10 despite the high court prohibiting protests there. The students said their strike, which began on February 9, is still on.
On Thursday, they saw the V-C's car outside the building when they started assembling around 11 am and assumed he was inside. When he did not meet them, they gathered in small groups at each of the five exits of the building in the hope of intercepting him on his way out.
The university alleged that the students "blocked the way" of officials, and "chased" them back into the building when they tried to leave. One rector was later taken to a hospital in an ambulance around midnight, after he said he was feeling dizzy and his blood pressure spiked.
In a statement released by the registrar's office, the university claimed that the students even tried to stop the ambulance shouting, "let him die."
The JNUSU denied the allegations.
"We never stopped anybody. We were just asking the officials to go and request the V-C to meet the students," said Geeta Kumari, JNUSU president. Kumari said they had even tried getting an ambulance for the rector when they heard he was feeling unwell.