JNU students, teachers to take protest to HRD ministry
Hindustan Times |
, New Delhi
A Mariyam Alavi
Feb 17, 2018 11:33 PM IST
The teachers' association (JNUTA) of the university on Saturday said they will be staging a sit-in protest on Monday, which will be joined by the students' union (JNUSU)
The drama of Thursday seems to have subsided, but Jawaharlal Nehru University is far from done with the mandatory attendance issues.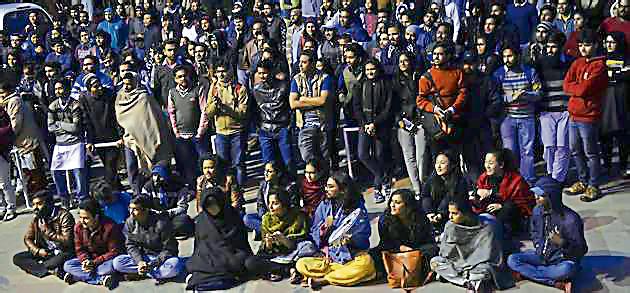 The teachers' association (JNUTA) of the university on Saturday said they will be staging a sit-in protest on Monday, which will be joined by the students' union (JNUSU). The students will also be taking out a march on Tuesday to the ministry of human resource development.
Jawaharlal Nehru University has been simmering ever since the varsity notified a new attendance policy. On Thursday, the students had allegedly confined the university's two rectors in the administrative block for almost 15 hours over the issue.
On Friday, FIRs were registered against the union office bearers for "wrongful restraint" and "voluntarily causing hurt," and the high court had issued an interim order directing them to not obstruct the entry or exit of the officials. Though the students haven't been approached by the police, JNUSU president Geeta Kumari said they have been asked to appear in court on Tuesday.
"The situation for this movement was created by university notices. Students across this country are under tremendous pressure. So you can't just issue such orders; it will just frustrate the students more. That was what we saw happening (on Thursday)," said Sudhir K Suthar, the general secretary of the newly elected JNUTA, who added that the teachers' body had sent a communication to the students asking them to end Thursday's alleged strike.
Suthar said that the teachers' body, in their general body meeting held on Friday, had decided to stag a sit-in on Monday, against "how the university had bypassed the statutory bodies like the Centre faculty committees, board of studies of schools and the academic council, in their decision making process" including the one to mandate attendance.
Though a venue and time is yet to be decided, JNUSU joint secretary Shubhanshu Singh said that they will be joining the protest too and will be taking out a march to the MHRD on Tuesday. The strike which had begin on February 9, is still on.