Sealing solutions: Urban planners not thrilled over DDA tweaking norms
Feb 03, 2018 12:26 AM IST
The DDA on Friday approved three proposals — uniform floor area ratio (FAR) for shop-cum-residential complexes, reduced penalties and regularising agricultural godowns — to amend Master Plan 2021
Urban planners largely did not approve of the Delhi Development Authority's (DDA) approach of tweaking norms to end the ongoing crisis due to sealing drive across markets in the National Capital.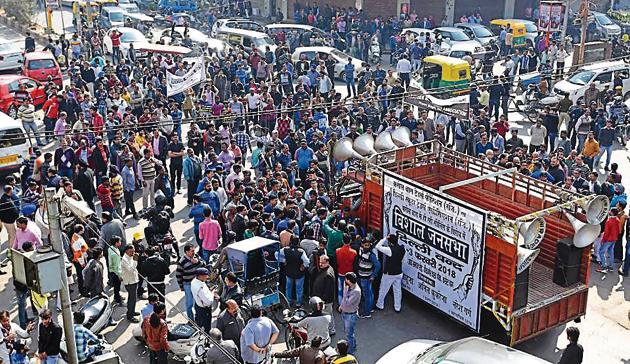 Instead of coming up with blanket norms inviting further unplanned development, they suggested that the authorities must focus on framing specific norms that would have long-term benefits.
Stay tuned with breaking news on HT Channel on Facebook.
Join Now
The DDA on Friday approved three proposals — uniform floor area ratio (FAR) for shop-cum-residential complexes, reduced penalties and regularising agricultural godowns — to amend Master Plan 2021. The move, officials said, is aimed at providing relief to traders hit by the on-going sealing of commercial establishments.
According to Arunava Dasgupta, head of urban design at School of Planning and Architecture, a blanket FAR in the city is not a healthy precedent as different parts of city have different capacities for development.
"Within the crisis management scenario, which we are witnessing today, if norms are changed or tweaked, it raises an open question whether the benefits will be short-term or long- term. Or, whether it will benefit a certain group of people at the expense of others," Dasgupta said.
The DDA's move comes at a time when the officials of three municipal corporations are supervising a sealing drive that started last month in accordance with the instructions of a Supreme Court-appointed panel. The shops and restaurants being sealed have either not paid conversion charges — the premium for converting residential premises into commercial ones — or have flouted permitted FAR.
"These markets are places which are already saturated and not a place where increasing FAR will help. Instead, restrain any further growth of public activities that required a bottom-up scenario of decision making," Dasgupta said.
The planners also questioned the urgency in which the DDA wants to amend the Master Plan 2021 law for the traders' relief. Centre's decision to reduce the public hearing (seeking comments on the amendments from public) from 45 days to three days has also raised eyebrows.
"The solutions are being taken in nervousness and under political pressure. Right now the problem is that the development has not happened as per norms. If today we changed norms just to get rid of existing unplanned reality, there is no guarantee that another problem emerges due to this," said AK Jain, former commissioner (planning), DDA who suggested that the authorities should involve a study group to do some on-ground research before coming up with a long-term solution.
Even civic officials seemed puzzled, over what they said were "lack of clarity" in the amendments.
"The amendment says that uniform FAR will come with a condition of parking facility. How will they do it with already congested buildings? The devil is in the implementation," said an SDMC official.
DDA officials, meanwhile, said the amendments to the Master Plan 2021 are based on the feedback the land owning authority has received from traders and that it is open to suggestions to tweak them further.
"The ongoing sealing drive has raised large scale public grievance and is affecting the public order. Whatever amendments we have proposed are on the basis of suggestions that we received from various shopkeepers and traders' associations. Furthermore, we have also invited objections from the public," said a DDA official.