'Stop attacking Kejriwal without proof': Yogendra Yadav's letter to Kapil Mishra
May 23, 2017 01:57 PM IST
Sacked Delhi minister Kapil Mishra had apologised to Yogendra Yadav for launching campaign to oust him from AAP in the past. Yadav wrote back to him with some advice.
A day after suspended AAP leader Kapil Mishra apologised to his former colleague Yogendra Yadav for launching a campaign to oust him from the party, the Swaraj India president has written an open letter to him asking to abstain from negative politics.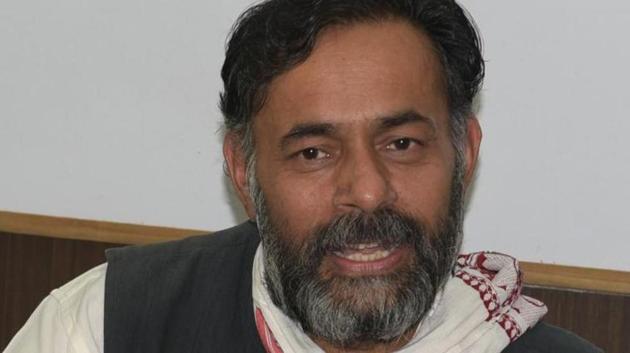 In the 420-word letter which he put up on Facebook and signed as "your senior", Yadav has advised his former AAP colleague that he should refrain from making allegations against Delhi chief minister Arvind Kejriwal every day.
"I am not saying that all your allegations are false. Some of the allegations have lot of weight but for the rest you still do not have credible evidence," he stated in the letter.
"If you keep making allegations every day, it will not end AAP but definitely end whatever faith people have in clean politics," he said.
Questioning Mishra's silence over the allegations that he is making against AAP and Arvind Kejriwal , Yadav said, "If you knew so much about the corruption in party, what where you doing in the party since past two years. Today, you should look for panacea rather than revenge."
Responding to Mishra's apology in the letter, Yadav said, "I heard your apology. However, instead of apologising to us, you should apologise to thousands of volunteers and lakhs of supporters and crores of Indians who have been cheated," Yadav wrote.
The two former AAP leaders went on to form Swaraj India party after being sacked for anti-party activities in 2015.
He, however, appreciated Mishra for showing the courage to apologise.
"Many people commit mistakes but not everyone have the courage to take responsibility for their actions. Even though it has been a long time, your public apology will help heal the wounds of many of our friends," he stated.
Referring to the incident in which he along with Bhushan was ousted from the party, Yadav said in the letter that his trust in humanity was shaken seeing the role Mishra and other former colleagues.
Mishra had launched a campaign to oust Yogendra Yadav and Prashant Bhushan from the party.
"Though you had hinted about it but I wish you will reveal the details of that episode too and bring the entire truth before the people of this country," the letter read.
Read the full letter here:
Kapil Bhai,
I heard your apology in the press conference yesterday. But I felt that instead of apologizing to Prashant ji and me (and also Anand ji and Ajit Bhai), you should ask for forgiveness from thousands of volunteers, lakhs of supporters and crores of countrymen who have been cheated. I am glad that by evening you too supported my point. Who doesn't make a mistake? But not all show the courage to apologise for it.
A lot of time has passed. But your apology made in public will help heal the wounds of many friends. I had lost faith in humanity after I saw your role and that of your supporters in framing us and ousting us from the party. On your request, I had campaigned for you several times in your constituency. Just imagine how I would have felt when I had to hear you accusing me of being a traitor. And then you targeted our respected Shanti Bhushan ji! It still gives me shivers. Today you alluded to the truth of that incident, but when you feel it right, place the whole truth of that case before the country.
In your apology today, I also hear the voices of many old companions who feel ashamed of their actions; some of them have even privately sent their apology to me though they cannot speak up publicly. This has washed away the bitterness in me, if there was any.
Well, in politics, you are more competent than me. But if you do not take it otherwise, can I give you a suggestion? Stop doing these daily press conferences against Arvind Kejriwal. I am not saying that all your allegations are wrong. Some do carry weight though for others, there is no proof yet. Aam Aadmi Party cannot be cleansed by leveling allegations day and night. It will instead wipe off people's faith in clean politics.
And if you knew all this, what were you doing there for the last two years anyway? Today, atonement suits you more than retaliation.
Kapil Bhai, negative politics is neither in your own interest nor in the interest of the country. For the last two years, I have spent most of my time on issues concerning farmers and rural India. Believe me, misdeeds of the Aam Aadmi Party leaders are not the biggest problem of this country.
As Faiz had said, "aur bhee dukh hain zamaane mein... (there are other things to worry about in the world)"
With best wishes,
Your senior
Yogendra Yadav
"Exciting news! Hindustan Times is now on WhatsApp Channels
Subscribe today by clicking the link and stay updated with the latest news!"
Click here!