Delhi village adopted by Manoj Tiwari has free WiFi but no regular water supply
Jul 20, 2017 10:17 AM IST
Kadipur, a small village in northwest Delhi, has free WiFi facility with 25 servers providing 24-hour internet connectivity. But it is battling broken roads, inconsistent water supply and choked drains. BJP MP Manoj Tiwari had adopted the village in 2014 under a scheme launched by PM Narendra Modi
Kadipur, a small village in northwest Delhi, has free WiFi facility with 25 servers providing 24-hour internet connectivity. But when it comes to basic civic amenities, the village has nothing to show.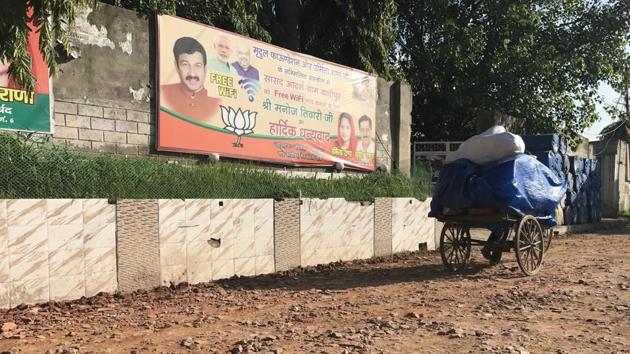 The village, with a population of about 800, is battling broken roads, inconsistent water supply and choked drains.
Saurav Verma, 18, a student of Delhi University and resident of Kadipur village, has to wake up at 5 in the morning every alternate day, and wait an hour till the water tank is filled up.
Verma, and most other residents of the village, say while the WiFi facility may have waited, the government should have first ensured regular water supply, an approach road and improved connectivity.
Kadipur was declared a 'free Wi-Fi' village on June 19 by the local councillor Urmila Rana. Villagers access the facility by registering their phone numbers on which they get security code to log in.
Delhi BJP chief and Northeast Delhi MP Manoj Tiwari had adopted Kadipur village under the Sansad Adarsh Gram Yojna in 2014.
A month after the WiFi facility was launched, Hindustan Times visited the village and found that while the internet facility was working fine, most villagers were disappointed with the civic infrastructure.
"We get only two hours of water supply that too every alternate day. It would have been better if the government would fixed this instead of spending on improving internet connectivity," Verma said.
It takes Verma at least two hours to reach Delhi University (North Campus) as connectivity to different parts of the city from the village is poor. The villagers have to hail shared vans to reach the main road 5 km away from where they get transport.
Though the internal roads were fine, the approach roads to the village are dust bowls with waterlogging at some places.
Another resident, who did not wish to be identified, said, "There are times when we could not sleep whole night because there are warehouses here where movement of trucks continue entire night. We complained to the local councillor but nothing happened. The politicians focus on populist measures while the basic infrastructure is crumbling."
He said that the drains are clogged and water overflows at several places.
"The mobile connectivity is not a big issue. Children in the village anyway had mobile phones with internet facility. We are not dependent on government for WiFi," he said.
Anil Kashyap, another resident, said things have improved a bit. "There has been some development in the past few years. He said earlier the villagers have to wait five days for getting water supply."
He said improved connectivity will create better employment opportunities for the village youth, he said.
Area councillor Urmila Rana said she has written to the Delhi government several times for improving the water supply but nothing has happened. "I would have got the roads constructed but the corporation is yet to notify the newly drawn municipal zones because of which no development funds could be allocated."
Manoj Tiwari told Hindustan Times that it was for the Delhi government to take care of problems related to water and power. "I have adopted the village and my funds will be used for the purpose. But I can only suggest or recommend the work but the government will have to do it. The problem persists because of the government's non-cooperative attitude. I am hurt that I cannot do much despite efforts," he said.