Budget 2018: BJP-led Centre doesn't care for Delhi, says Sisodia
Hindustan Times |
Gulam Jeelani and Ashish Mishra
Feb 02, 2018 12:01 AM IST
Deputy chief minister Manish Sisodia, who also holds the finance portfolio, said that the state's share in central taxes had remained stagnant since Rs 325 crore since 2001.
The Delhi government on Thursday said it was disappointed by the Union budget since the state's share in central taxes has not changed. Chief Minister Arvind Kejriwal accused the Centre of meting out "stepmotherly" treatment to the residents of the national Capital.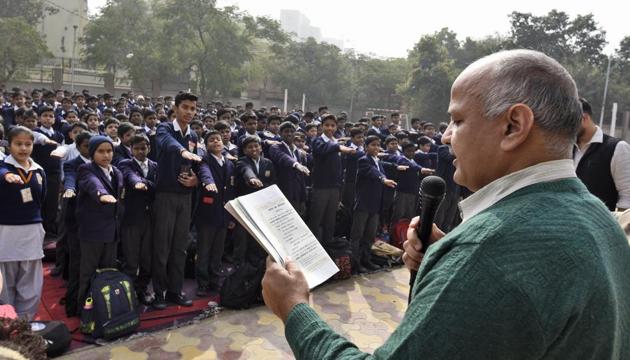 Deputy chief minister Manish Sisodia, who also holds the finance portfolio, said that the state's share in central taxes had remained stagnant since ₹325 crore since 2001.
Stay tuned with breaking news on HT Channel on Facebook.
Join Now
In his budget speech on Thursday, Union finance minister Arun Jaitley nominally increased the central assistance for 2018-19 from ₹413 crore to ₹450 crore but the state's share in central taxes and duties remain unchanged.
"I had expected some financial assistance to important infrastructure projects for national capital. Am disappointed that Centre continues its stepmotherly treatment to Delhi," Kejriwal tweeted.
WHAT DELHI DIDN'T GET
Bigger share in central taxes
The Aam Aadmi Party (AAP) government had been demanding that the Centre enhance its allocation from to at least ₹5,000 crore. "The national Capital's budget has increased from R8,739 crore in 2001-02 to ₹48,000 crore in 2017-18. Unlike Delhi, other states get their share based on the annual increase in the collection of central taxes," Sisodia said on Thursday.
Nothing for local bodies
The AAP government alleged that while the Union government provided basic and performance grants to local bodies in other states as per the recommendations of 14th Central Finance Commission (for the award period of 2015-2020), local bodies in Delhi did not get support. "We had requested ₹1,000 crore as grant for the local bodies. But nothing was given," Sisodia said. Delhi's North and East municipal corporations have been running under losses ever since the MCD was trifurcated in 2012. The financial crunch in the two corporations has led to repeated strikes by staff over non-payment of salaries.
Normal central assistance
Sisodia said they had requested the Centre to increased the assistance to at least ₹1,000 crore in the current year's revised estimates (RE) and ₹1,500 crore in the budget estimate (BE) but said the Capital had got only ₹450 crore.
Electric buses
The Delhi government said it had asked for a special package to buy 2,000 electric buses to combat pollution. "I had personally requested a special package for 2000 electric buses for Delhi, which could have played a major role in fighting air pollution. Unfortunately, Central government does not care for Delhi," Sisodia said.
WHAT DELHI GOT
Delhi Police
The Centre allocated R6,946 crore for Delhi Police, which comes under the Union home ministry. Last year, the Delhi Police had been given ₹5,910 crore. This jump of over a thousand crore was welcomed by Delhi Police special commissioner and spokesperson Dependra Pathak. "This increased budget will help us improve public service delivery in Delhi," he said.
1984 anti-Sikh riot victims
Jaitley allocated ₹10 crore to the Delhi government for paying enhanced compensation to victims of the 1984 anti-Sikhriots victims. An additional ₹5 crore has been allocated for Disaster Response Fund.