Vishwas mocks Kejriwal over AAP's choice of RS nominees, calls himself a martyr
Jan 04, 2018 11:50 AM IST
The announcement of AAP's RS nominees came as another blow for Kumar Vishwas, who has been at loggerheads with the party's top leadership. Vishwas said he was ready to fight his battle alone as a 'martyr' after being punished and rewarded for speaking the truth.
Soon after Kumar Vishwas lost to two outsiders who were rewarded with Rajya Sabha nominations by the party on Wednesday, the Aam Aadmi Party founder-member mocked party chief, Arvind Kejriwal, for disappointing workers by his choice.This was perhaps the first time that Vishwas launched a direct attack on his 'friend' Kejriwal, hinting at infighting within the party.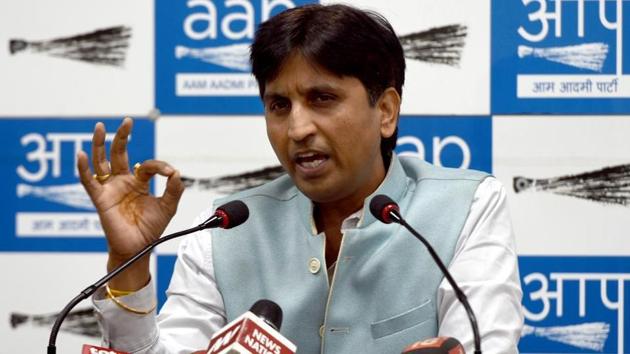 "I should congratulate my friend Arvind Kejriwal for nominating a great personality Sushil Gupta who has been working with Manish Sisodia for 40 years, 12 years with Arvind Ji, attending rallies for all MLA's in last five years... to be voice of revolutionaries in Rajya Sabha," said a sarcastic Vishwas after the AAP Political Affairs Committee of the party finalised senior party leader, Sanjay Singh, businessman Sushil Gupta and chartered accountant Narain Dass Gupta for the Upper House.
Stay tuned with breaking news on HT Channel on Facebook.
Join Now
"We discussed many names including insiders in the meeting. But this is what we finalised," deputy chief minister Manish Sisodia said after the PAC meet.
"Every one has a right to express his ambitions. What ultimately matters is what the party decides," a party spokesperson said.
The announcement comes as yet another blow to Vishwas, the poet-politician who has been at loggerheads with the party's top leadership for quite some time now. Vishwas said he was ready to fight his battle alone as a 'martyr' after being punished and rewarded for speaking the truth.
"Kejriwal told me four months ago that he will rather kill me than let me be a martyr. I concede my martyrdom with a request to my friend Kejriwal that there is a rule in the battle. No one should be allowed to touch the body and disrespect the martyr," he said.
Vishwas, known for his oratory, has been one of the most prominent AAP face since it was launched as an anti-graft movement five years ago. But his at-odds relationship with Arvind Kejriwal started during Punjab elections 2017 when he was kept away from campaigning in the state where AAP won 20 seats.
Vishwas, now the Rajasthan in-charge , had also had another rough patch with the top leadership when MLA Amanatullah Khan was reinstated in the party in October last year after being suspended in May. On December 3, Vishwas called for creating a "version-2" of the party by reuniting those who had left the outfit, and reiterated that it was moving away from its core values.
"For the last one-and-a-half years, be it the PAC or my elder brother Arvind Kejriwal's decision on issues like surgical strike, taking a soft stand on terrorists, his silence on ticket distribution and JNU... whatever truth I spoke, I have been punished today," Vishwas told the media after the announcement. Last Thursday, supporters had picketed the party office demanding that Vishwas be sent to parliament. The crowd dispersed after Vishwas' appeal on Twitter.
In 2014 general elections, the party fielded Vishwas against then Congress vice-president Rahul Gandhi in Amethi, the Nehru Gandhi bastion.
"He is a crowd puller. If he leaves the party, it will be AAP's loss. He was any day a better choice that the two Gupta's," said an AAP leader. However, Vishwas said he will continue to be part of the andolan (movement).
Sources said party was contemplating fielding Vishwas against Congress' Sachin Pilot in the upcoming Ajmer (Rajasthan) bypoll but Vishwas was reportedly not keen on it.