Yogendra Yadav, Prashant Bhushan say 'no possibility' of returning to AAP
Dec 04, 2017 03:49 PM IST
Yogendra Yadav and Prashant Bhushan, founder members of AAP, were sacked in April 2015 for their alleged anti-party activities after they questioned party chief Arvind Kejriwal's style of functioning
Estranged AAP leaders, Yogendra Yadav and Prashant Bhushan, on Monday dismissed the possibility of returning to the party saying it has "betrayed all ideals of the anti-corruption movement".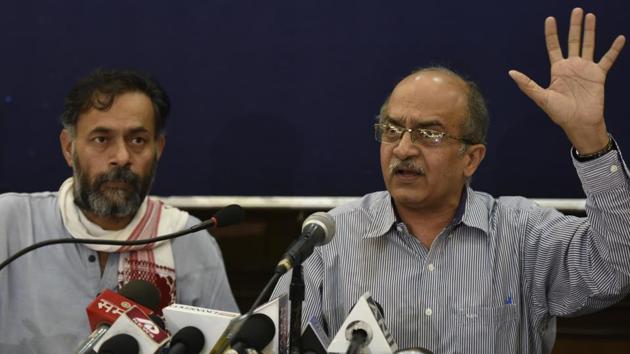 AAP leader Kumar Vishwas had on Sunday called for working towards a 'version 2' of Aam Aadmi Party (AAP) by facilitating return of ousted leaders, including Yadav and Bhushan.
"No formal or informal conversation of any such a move has happened. And I don't see that happening. We (Swaraj India) are on to a different path. AAP is pursuing standard politics of any other party — like Lalu Prasad runs in Bihar— and we have chosen a difficult path of alternative politics by raising farmers' issues," Yogendra Yadav told Hindustan Times.
Yadav and Bhushan, founder members of AAP, were sacked in April 2015 for their alleged anti-party activities after they questioned party chief Arvind Kejriwal's style of functioning. The two founded Swaraj India, a political outfit, soon after.
"They would claim it (AAP) is a shade better than others, but I am not into disputing or giving into those claims," Yadav said.
Poet-politician Vishwas, who has been at loggerheads with the party's top leadership, said on Sunday that he would travel across the country to revamp the party that should be based on the core principles set five years ago.
Bhushan termed the announcement 'absurd'.
"There are no talks or possibility of our return to AAP which has betrayed all the ideals of the anti-corruption movement," he tweeted on Monday.
Yadav, now president of Swaraj India, said the 'liberating' idea of the movement had been 'let down' ever since it transformed into a political party five years ago.
"I really do not know where this is coming from. The moment anyone in AAP remembers morality, they remember Prashant and me. There must be a serious deficit," he said.
Vishwas, AAP's Rajasthan in-charge, has been at odds with the top leadership after suspended MLA Amanatullah Khan was reinstated in the party in October this year. Okhla MLA Khan was suspended over his tirade against Vishwas in May this year.
Speaking at the party's fifth anniversary on November 26, Vishwas said that AAP has drifted away from its core principles. He had called Sunday meeting with volunteers at the party's Delhi office. No other senior leader attended the event, even as there was no rebuttal from the party.
"It's good for the party to have a meeting with volunteers," said AAP spokesperson, Saurabh Bharadwaj.