At Delhi's Khan Market, service charge is not exactly optional
Jan 06, 2017 11:21 AM IST
Some comply because of the lack of awareness, others did not want to create a scene and embarrass themselves by refusing to pay.
A day after the government clarified that customers can refuse to pay service charges at restaurants and cafes, if they are unsatisfied with the product or the service, Hindustan Times decided to check the new directive and document reactions of the customers refusing to pay the service charges.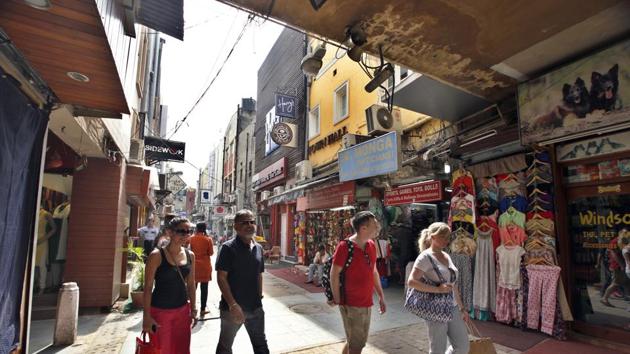 In Delhi's Khan Market, service charge is not really optional. Restaurants in the area still insist that you cough up the forced gratuity charges. Some comply because of the lack of awareness, others did not want to create a scene and embarrass themselves by refusing to pay.
HT on Tuesday went to a popular eatery in Khan Market, and raked up a bill of R1975. The restaurant added an "additional service charge" of 10%, amounting to R197.50. Then there were additional charges and other taxes like VAT, Service taxes, Swachh Bharat Cess, and Krishi Kalyan Cess, which brought the grand total to R2574 -- approximately R600 (30%) higher than the base costs of the food ordered.
When HT refused to pay the service charges, the restaurant manager said these charges were not optional yet. "Our billing system works in such a way that these (extra) charges are calculated and added automatically. It will take us at least two or three days before we can reconfigure it to avoid these charges," he said.
However, he was non-committal as to whether they would cease charging customers the service charge once they make the necessary changes to their system. "It is up to our management, and I cannot comment on that," he said.
Customers have claimed that they do not mind paying the service charge as long as it is not higher than 10%; the bigger problem was the risk of tipping twice as people don't notice the service charge at times. "If the service charge is at 10% then I don't tip the server. So, up to 10% is fine. The problem is that some people don't notice the service charges and end up leaving extra tips too," said Shivika, a customer at a popular dessert shop in Khan Market.
Read: Not satisfied with restaurant experience? Govt says you can refuse to pay service charge
After settling our bill at the restaurant, HT stopped at a popular cafe in the area. Three coffees added up to R520 at this local favourite, and they similarly tacked an additional service charges at 10% (R52) and other taxes, which brought the grand total to R693. This time the difference was R173, almost 25% more than the actual cost of the coffees.
"Even if the government says that service charges are optional, we will continue to charge them. We are providing you with a service, and we explicitly state in our menus that an additional 10% service charge is applicable. If you did not want to pay the charges you should have told us earlier," said the manager of the cafe.
There have been reports of restaurants claiming that if consumers do not want to pay the service charges they should avoid the place. Consumer rights' activist Pushpa Girimaji said that restaurants with such attitudes should not get away with it.
"Consumers need to know their rights. Consumers should avoid food joints which charge a compulsory service charge. The cost of the fancy ambience and service is included in 'food charges' and this service charge is not a government levied tax," she said.
Restaurateurs in the area claim that they have never had a customer who refused to pay service charges, or even questioned them about it. Girimaji said, this could be mainly because of a lack of awareness and the fear of embarrassment.
"I used to think this service charge was a government imposed tax. I did not even realise there was a difference between service tax and service charge. Have you seen restaurant bills these days? Many a times the tax section is longer than the actual food charges. How do I keep track of all these different taxes that have been imposed?" asked Shantanu Haldar, a customer at one of the eateries in Khan Market.
There were customers who also claimed that even though they do not think service charges should be levied at fixed rates and compulsorily, they would not refuse to pay it if it appeared in their bill.
Read: Delhi restaurant, hotel owners say service charge order will affect staff
"If I am happy with the service sometimes tip 15% or even 20%. But if the service is not up to par, I would not want to tip even 10%. So I definitely think that it should be customers prerogative to choose how much to pay as gratuity; but I don't think I will be able to refuse to pay once a bill is issued. I would not want to make a fuss or create a scene," said Neeta Chethi, who was out shopping in the area.
With restaurants refusing to scrap the additional charges that have been deemed optional by the government, and customers still not very clear about their rights, service charges seem to be here to stay; in one form or another.