Cash crunch dampens Delhi-NCR's weekend 'high spirits'
Hindustan times |
, Gurgaon/new Delhi/noida
Gulam Jeelani and Pawan Pandita
Nov 12, 2016 11:38 PM IST
The Centre's ban on Rs500 and Rs 1,000 notes has become a party pooper in Delhi- NCR as cash-based alcohol sales in bars, pubs and 'ahatas' have been dwindling since the announcement.
The Centre's ban on Rs500 and Rs 1,000 notes has become a party pooper in Delhi- NCR as cash-based alcohol sales in bars, pubs and 'ahatas' have been dwindling since the announcement.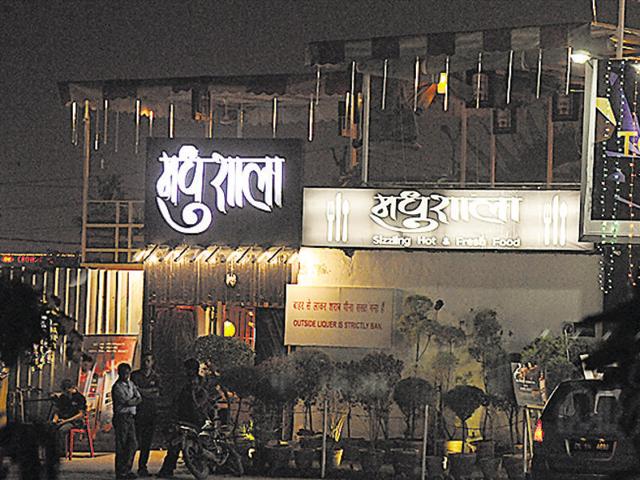 Sales halved at Gurgaon DLF Phase 1's Discovery Wines, shopkeeper Dilip said. Despite it being a weekend, he collected just Rs 25,000 till 3pm Saturday. Before Tuesday, when the ban came into effect, the outlet in posh Shopping Mall at Arjun Marg made sales worth Rs 50,000 a day, he said.
"There is a sudden decrease in footfall. Plus, we don't accept old currency. The sales have dipped by nearly Rs 20,000 per day," Dilip said.
His sales was R18,000 on Thursday and Rs 20,000 on Friday.
Gurgoan's 400 licensed pubs and bars churn Rs 60 crore daily, according to estimates.
Tipplers going to malls for their drink have also been shying away.
The Empire Club in MGF Metropolitan Mall — near MG Road Metro station — had just 60 customers on Friday evening, co-promoter Satyajeet Mohanty said. Usually, around 150 customers visit on a weekend, he said. "We deal mostly in cash. The sale has dipped by over 40% ever since the cash was wiped off from the market," he said.
'Ahatas' or easy-on-the-pocket open-air hangouts next to liquor vends have not done so well. Mostly, they accept only cash to avoid taxation. Some estimates say 75% of their business has been hit.
"From a business of Rs 40-50, 000 per day we have been reduced to Rs 8,000 per day," said Deepak Kumar, a liquor businessman who runs three ahatas the satellite town that has 83.
Meanwhile, breweries, especially high-end ones, have had better sales as card swipers have kept at it.
"Before Tuesday, we used to see 70 % dealings through credit cards. It is now up at 95%," said Beer Café CEO and founder, Rahul Singh. The chain has 16 outlets in NCR.
Vikram Rana of Vapour Pub and Brewery echoed the view. He said the ban did not affect sales among card-using corporate-sector customers, though cash transactions came down by 15%, he said.
Bars such as Social in Cyber Hub introduced special offers such as five shots for old Rs 500 note to make up for sales. A shot otherwise costs Rs 180.
In the national capital, too, sales cooled as buyers mostly prefer to use cash.
"The sale has definitely dropped but is recoverable. People are still buying alcohol. We were accepting cash till yesterday. Now we are not left with any change to return," said Rajan, who works at a wine shop in Jangpura.
Daily sales fell from Rs 5 lakh to Rs 1 lakh after Tuesday, suggested reports.
Customers with cash for bulk purchases are being turned away. "Bulk payments for weddings and parties are being made through cards," said Rajan.
There are 704 restaurants with bar licences, 399 shops in malls with liquor licences and 350 government-run vends in the national capital. A few outlets, however, accepted old Rs 500 and Rs 1000 notes.
Tipplers will find it hardest in Noida, where the liquor business is primarily conducted through cash.
"We do not accept any card. As a result, we have been selling one-third the quantity that we sold previously," said salesman Prabhat Kumar of Indian-made foreign liquor vend in Mamura.
A party by bank employees scheduled for Friday evening was pushed to Saturday because of their extended working hours, added Kumar.
Noida's alcohol sales fell by 65% to 70% since Wednesday, according to estimates.
Counter manager Sumit Yadav at a beer vend in Sector 29, said, "Our sales would go up to Rs 55,000 on a Saturday. But I have hardly collected Rs 15,000 till 6 pm," he said.
Sector 18's bar-cum-restaurant, The Flaming Kick (TFK), also witnessed a 25% dip in footfall over the last three days. It has a capacity of 140 seats.
Gautam Budh Nagar district excise officer, Kuldeep Yadav, confirmed that daily alcohol sales petered to 35% of what it used to be before the currency ban.
"Against the sale of Rs3 crore per day previously, it is less than Rs1 crore now," he said.
(With inputs from Ananya Bhardwaj)