Cash crunch shadow over Delhi trade fair
Nov 18, 2016 10:29 PM IST
The India International Trade Fair (IITF) will open for the general public today (Saturday) with merchants already expressing apprehensions about a possible decrease in the number of visitors and sales due to the ongoing liquid cash crunch.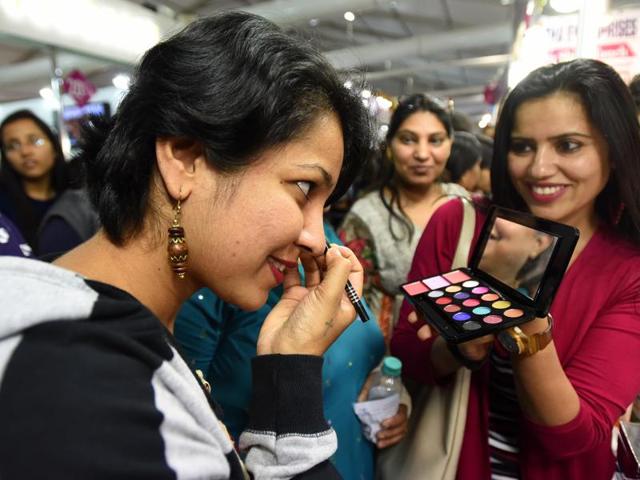 Vendors have been complaining about a lukewarm response to the fair this year, and some veteran traders have even claimed that this has been one of the worst years at the fair for them.
Kay Leia from Thailand has been coming to the trade fair for almost 10 years now, and she claims this year has been the worst in terms of sales. "People don't have cash to spend and not everybody has a credit/debit card. Many people try to spend their old currency here that we cannot accept," she said.
Many traders have expressed fears about their prospects. "I am worried. I have reduced prices of my products drastically to try and make entice the customers. I am worried that I might not even be able to break even by the end of the fair. We were told that we would be provided with swipe machines. But we haven't got one yet," said Anil Khanna of Patiala, who runs a stall selling women's clothing at the Punjab pavilion.
Traders from outside Delhi are complaining that they don't even have enough cash to manage everyday expenses like food.
"We got to know about the demonetisation only a couple of days before we left. So we did not have time to get the currency exchanged before leaving. Restaurants and hotels here are not accepting old notes, but customers primarily come here to spend their old currencies. They say that they will buy our products only if we agree to accept their old notes," said Chitra of the Tamil Nadu Corporation for Women's Development.
Some other traders said that though it has been bad this year, they hoped for a turnaround. "This year, because of the cash crunch, sales have reduced by almost 50%. The number of visitors at the fair has also reduced. I hope it gets better when the fair opens for the general public on Saturday," said Sabra Amrut, who sells handicrafts at the Gujarat Pavilion.
The India Trade Promotion Organization (ITPO) has even slashed entry ticket prices on Thursday to boost the reduced footfall. Adult passes now cost Rs 100 on weekends and public holidays and Rs 50 on working days. Children under the age of 12, senior citizens and differently-abled people will be allowed entry free of charge.
Where can I buy tickets?
•Online through the IITF website
•At Metro stations
•At Pragati Maidan (but this will be subject to availability)
How many participants/stalls are there to choose from?
•7000 participants
•280 companies
•24 countries
•27 states
•Four union territories
•Many government departments and agencies
•close to 1000 rural artisans and craft persons
What should I definitely not miss?
•The salwar suits and slippers available at the Punjab Pavilion
•Silver jewellery and Tussar silk sareesat the Odisha Pavilion
•Kancheevaram sarees at the Tamil Nadu pavilion
•Products made by the Tihar Jail inmates at the Delhi pavilion
•Lakh bangles being made at the premises of the Jharkhand pavilion
•Products, including furniture, made of cane and other natural fibers at Assam pavilion
•Bandini products and handicrafts at the Gujarat pavilion
•Jewellery and other trinkets from the Thai stalls, lamps from the Turkish grand bazaar, and carpets and nuts from the Afghan stalls in the International Pavilion
What do I need to take with me to be prepared?
•Though many stalls have started accepting credit and debit cards, and Paytm, it is always better to carry some loose change.
•There are multiple ATMs at the venue, but the queues can be long and daunting
•Wear comfortable shoes; it can be quite a walk.
•Stay hydrated. Drink plenty of water. There are multiple stalls that sell beverages, but many of them ask you to give the exact change.
"Exciting news! Hindustan Times is now on WhatsApp Channels
Subscribe today by clicking the link and stay updated with the latest news!"
Click here!