Cong promises flats for slum dwellers, reduced house tax in MCD poll manifesto
Apr 18, 2017 11:25 AM IST
Licence for street vendors, a department to look into problems of slums, houses for slum dwellers, reduced house tax, fix deposit money for girl students of municipal schools and financially sound municipal corporations in its manifesto for April 23 elections.
The Congress on Monday released its manifesto for the April 23 municipal elections, promising a cut in house tax rates, an urban poverty alleviation department, unemployment allowance and free health and accident insurance to all.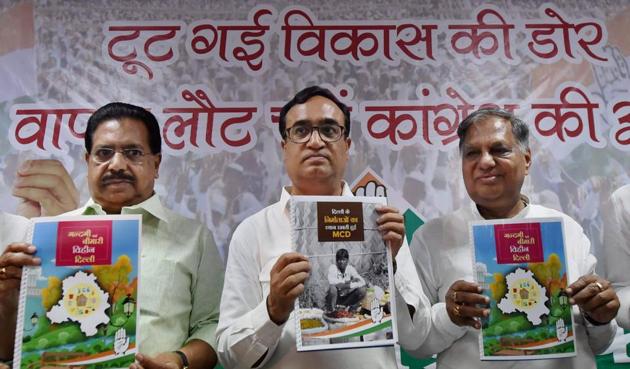 The civic polls are crucial to the survival of the grand old party in Delhi after its complete rout in the 2015 assembly elections at the hands of the Aam Aadmi Party. Even though it could not win the Rajouri Garden bypoll, result of which was announced on April 16, the party came second behind the BJP. It is hoping that the traditional voters, mostly slum and illegal colony dwellers, it had lost to AAP will come back to its fold.
Pro-poor sops
To connect with its lost voters, the Congress promises dedicated zones and licenses to street vendors. Delhi Congress president Ajay Maken said at least five lakh street vendors will be identified, registered and given licence to save them from harassment and exploitation. Also, all sanitation workers in the three corporations working on a temporary basis will be regularised within two years, the manifesto states.
Presenting the first of the three part series of Congress manifesto, Maken said, "A separate wing will be formed in the corporations, Urban Poverty Alleviation Department, which will look after the problems of slums and unauthorised colonies."
Maken said slums would be developed through in-situ rehabilitation into housing complexes. One-third of Delhi's population lives in sub-standard housing in the city's 695 slums clusters, 1,797 unauthorised colonies, old dilapidated neighbourhoods and 362 villages.
The party says that it will reduce house tax and levy no additional taxes. AAP has already promised to abolish house tax if it wins the municipal polls. The BJP manifesto released on Sunday promises no additional taxes.
The Congress will come out with separate manifesto for urban infrastructure and youth in next two days. The party manifesto, which is a detailed study of the problems and solutions, were prepared by experts including former UPA government ministers Salman Khursheed, Shashi Tharoor, and Jairam Ramesh.
EDUCATION
To stop the high drop-out rate in municipal schools, the party has promised a fixed deposit of Rs 1,000 for all girl students in the corporation schools. They will be given this amount after clearing Class 5.
One of the most worrying trends seen in the last five years in the corporation schools is decreasing enrolment. The number of students studying in these schools has gone down by 10-20% since 2012. All three corporations have seen an enrolment fall by 10-20% in the last five years.
FINANCIAL SELF-RELIANCE
Maken said all three corporations will be made self-reliant in two years through revenue generation from different areas and annual collections of Rs 500 crore from licence fees from vendors, Rs 1,600 crore from toll tax and utilisation of unused land and outdoor advertising.
"The vendors are presently charged illegally for setting up their stalls. I don't think, they will have a problem if they have to pay less amount and get a designated zone in return," he said.