Delhi: Second fire in two weeks at Sadar Bazaar guts shops, no injuries
Nov 23, 2016 03:55 PM IST
A fire in Sadar Bazaar, one of the largest wholesale markets in Delhi, on Wednesday destroyed several shops and gutted out stock, but no casualties were reported, officials said.
A fire in Sadar Bazaar, one of the largest wholesale markets in Delhi, on Wednesday destroyed several shops and gutted out stock, but no casualties were reported, officials said.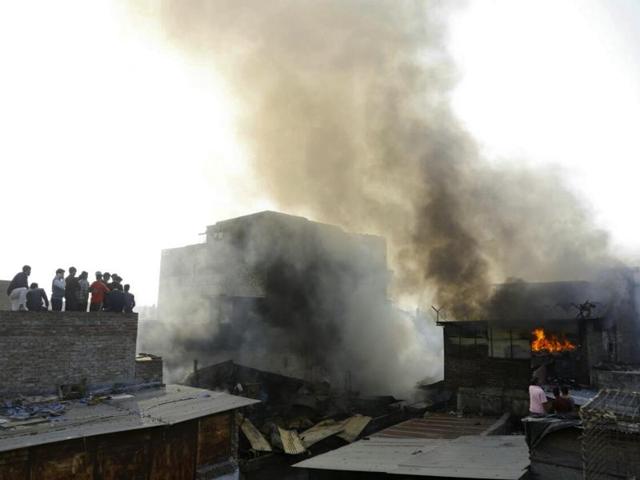 The fire was reported at around 6:30am and Delhi Fire Service officials said firefighters manning 25 trucks could bring the blaze under control only at around 9.30am.
This is the second fire in this month in the area which officials say is susceptible to blazes because of old and loose wiring, electrical overloads and over congestion. On November 7, at least 300 houses in a slum area adjoining Sadar Bazaar were gutted in a massive fire.
Many traders in the area are still in shock and were too emotional to process the loss they will have to incur after the incident.
The three-storied warehouse of the two sports goods stores that Anil Rakheja co-owns burnt to the ground in front of his eyes at lane number 11. "I will probably have to drive a battery-run rickshaw now," Rakheja, who was trying to fight back his tears, said.
Shop owners said that for many the fire has proved to be a double jeopardy as it came close on the heels of the demonetisation drive. "Our businesses were already so low because of the demonetisation. Now we have to deal with losses because of the fire," Harpreet Singh, a local vendor in the area, said.
Many are anxiously awaiting to ascertain how much loss they would have to incur.
"My products have not been insured. Right now, I don't know what I will do. I don't even know how much of my products have been destroyed. If not the fire then the water would have definitely damaged a lot of the product. I am trying not to think about how much money I will lose," Rakesh Gupta, who owns Vaishali Sports Goods, said.
Local residents in the area claimed that they informed fire service officials almost immediately after the fire started in a warehouse that stored garments for export and alleged that firefighters took over an hour to reach the spot.
"By then the fire spread to my warehouse too. All my products are probably burnt to the ground by now," Mohammed Isa, whose warehouse that holds plastic products perished in the fire, said.
Deputy chief of Delhi Fire Services Sunil Choudhary, however, said that the congested layout, narrow lanes and bad traffic make prompt response difficult.
"We reached as soon as we could and there are 25 fire tenders working to ensure that the situation is controlled. This area is such that our trucks can't reach very quickly. Even now, we haven't been able to turn our trucks around," he said.
Officials of the disaster management department, who were at the site, also concurred that the response was "early".
They are yet to ascertain the cause for the latest fire but said that areas like Sadar Bazar are susceptible to fires because of old wiring and electrical overloads, which tend to spread quickly as buildings are packed close together in such congested neighbourhoods.
"The market association needs to take the onus to ensure that stores are equipped with fire fighting equipment like fire extinguishers, and people are trained on how to use it effectively," Nilofar Nizami, an official with the disaster management department, said.
Her colleague Devender Kumar also noted that the fire spreads quickly at such sites as they are left unattended at night.
"Overnight guards need to be posted at the warehouses so that they can notify authorities immediately after a fire breaks out. Many a time, by the time people realise there is a fire, it would have spread to other sites," he said.