Delhi: Two weeks pass, little money in pockets
Nov 23, 2016 11:24 AM IST
Small vendors in city's major markets still reeling under note ban impact
"Bhaiyya! Do you accept payments through card or Paytm?" was a customer's first question at a makeshift store in the uncharacteristically calm market in south Delhi's Lajpat Nagar.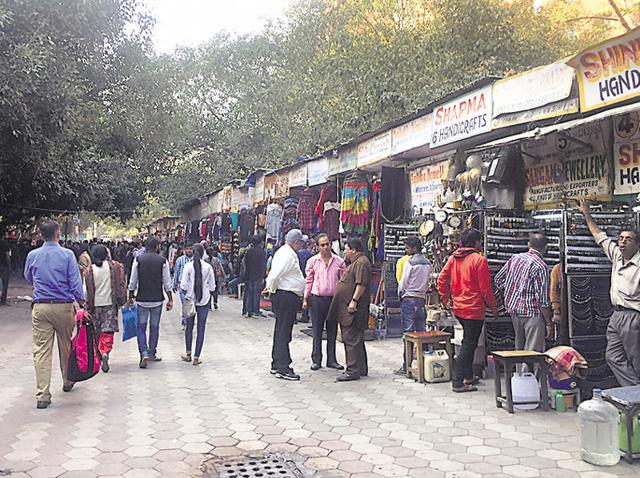 High value ₹500 and ₹1000 notes were demonetised nearly two weeks ago, and small vendors in major commercial markets of the Capital are still reeling from its impact. Many have embraced the swipe machines and even welcomed Paytm, but others claim it is not for them.
Manoj Kumar Shastri runs a small street side stall that sells salwar kameez fabric in the market. After informing his customer that he does not have provisions for card payments, he turns and complains that he has not been able to make a single sale yet; it was already close to noon on Tuesday.
"This is the problem. None of the customers who visit the market have cash to spare. And I don't have a card swipe machine. I don't even know how to use one! I am an illiterate man. I don't use mobile phones, how will I know how to use a swipe machine?" he said.
His colleague Darsan Kumar said that even if customers have cash, sometimes sales don't go through as they don't have change to render the balance amount. "If somebody pays me the new ₹2,000 note for a ₹500 product, where will I get the change from?" he asked.
Read: Feel the pinch? 5 things that are costlier in Delhi after demonetisation
Even in central Delhi's Janpath market, vendors complained that there was a lack of lower denomination notes in the market. "People give us the ₹2,000 notes after shopping for ₹200. If I give all the change I have to just one customer, what will I do when the others come?" asked Ashok Thakur, the secretary of the Janpath Plaza Association.
Shastri and others are not alone in their trepidation; most vendors in the area complained that business has been slow, and profits negligible. "I have applied for a card swipe machine now. There is no other way. Business is only 30-40% of what it used to be. We never really made a lot, but earlier there was at least a guarantee that we would be able to afford meals at the end of the day; now we are not sure if we will have enough to even buy basic groceries," said Sanjay Kumar.
Sanjay Yadav, a pani puri vendor, has opened an account on Paytm to boost his sales. "Initially I used to make ₹3,000 to ₹4,000 rupees a day, but now I am lucky if I make a thousand. Though I accept Paytm payments from customers, my suppliers don't accept Paytm transactions. They insist on cash; now do I make sales, or go stand in ATM queues?" he asked.
The National Association of Street Vendors of India (NASVI) claims that though e payments can be beneficial for the future of street vendors, the fact that suppliers and wholesalers don't accept it puts a strain on sales.
"People have not been able to replenish their stocks, as wholesalers are not willing to give products on credit any more. The cash crunch is really hurting the smaller vendors. We try to encourage e-payment options among street vendors, but it is not always possible. If I am getting paid with e-wallets, I should be able to pay my suppliers and wholesalers also with such e-wallets. That is not happening right now," said Arbind Singh, the national coordinator of the association.
However, other vendors dismissed card swipe machines and e-wallets as an option for them. "Street vendors usually don't provide proper bills. So they can't accept card payments, even if we want to," said Umesh Upadhyay.
Some vendors are hopeful that this too shall pass. "This seems bitter now, but it will surely get sweeter soon. This works in the larger benefit of people," said Vinod Sharma, the president of the Old Mini Market Association at Janpath.
"Exciting news! Hindustan Times is now on WhatsApp Channels
Subscribe today by clicking the link and stay updated with the latest news!"
Click here!