Delhi experiences warmest New Year's Day since 2006
Jan 02, 2017 11:51 PM IST
The minimum temperature in Delhi has remained above the season's normal average for the month of December. IMD has, however, forecast a spell rains on Friday which may plunge the mercury levels
After experiencing the coldest Christmas in five years with maximum temperature reaching 15.4 degrees Celsius, Delhi saw the warmest New Year's Day since 2006 this Sunday, when maximum temperature reached 23.2 degrees Celsius.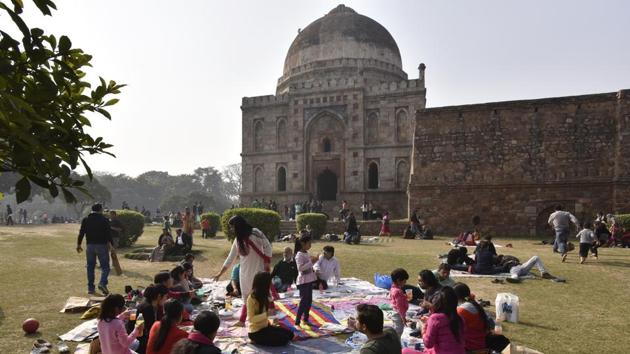 Experts said that Delhi has been treated to an uncharacteristically warm winter this year, with minimum temperatures remaining at 6.6 degrees Celsius — a notch above the season's normal average. It has been one of the mildest winters in Capital in the last five years. New Year's Day was one of the warmest with maximum temperatures peaking at 23.2 degrees Celsius; the highest recorded temperature on New Year's Day since 2006.
Stay tuned with breaking news on HT Channel on Facebook.
Join Now
Over the last five years, December has been getting progressively warmer in Delhi. In recent years, the month has remained relatively warmer, with the colder winters moving into the new year. Mid-January, which once marked the end of winter in the national capital, is now the onset.
According to Mahesh Palawat, chief meteorologist at Skymet, the lowest temperature recorded in December 2013 was 2.4 degrees Celsius, which increased to 2.6 degrees Celsius in December 2014. "In 2015, the lowest temperature was recorded on December 20 at 5 degrees Celsius. This season the lowest temperature was 6.6 degrees Celsius on December 19," he said.
2017 also started on a warmer note. "The maximum temperature was recorded at 24 degrees Celsius on January 1st in 2006. Since then, this is the highest temperature we have had. In 2012 too, the temperature had hit 23 degrees Celsius," said an official from the Regional Weather Forecasting Centre (RWFC).
The India Meteorological Department (IMD) has forecast rainy days in Delhi from Friday onwards. This may help bring down the temperatures. Weathermen say low intensity western disturbances and lack of snowfall in the hilly regions have lead to milder winters this year.
"Though we have seen many western disturbances pass over northern regions of the country, their impact have only been felt in the extreme north. There hasn't been any snowfall in the valleys of Jammu and Kashmir or Himachal Pradesh. Any snowfall, if at all, has been in the extreme north regions, too far away to create an impact on Delhi's weather. So, the northerly and north westerly winds that follow after a western disturbance were not as cold. This has impacted the winter temperatures in Delhi," said the RWFC official.
Though snowfall was recorded in Shimla on Christmas, the lack of substantial snowfall since, has hit the temperatures in the Delhi. The frequent western disturbances also brought with it easterly winds, which increased humidity in the region and raised the minimum temperatures, according to Palawat.
Though IMD has predicted similar snowfall in north India, it does not expect the temperature to drop below 10 to 11 degrees Celsius in Delhi.
Monday will be relatively pleasant with temperatures not expected to drop below 8 degrees Celsius, or peak over 21 degrees Celsius. Tuesday will be more of the same, with maximum and minimum temperatures expected to be 22 and nine degrees Celsius respectively. Moderate fog is also expected in parts of the city.