Eye on civic polls, Kejriwal inaugurates toilet complex in Kalkaji
Jan 11, 2017 12:07 AM IST
The toilet complex, which cost Rs 95 lakhs to build according to the MLA, will have 73 toilet seats for men, 65 for women and four for differently abled, along with six bath stalls
In the wake of elections in Punjab and Goa, which will be followed by municipal elections in Delhi, chief minister Arvind Kejriwal is on an inauguration spree. After opening 12 toilet complexes in seven constituencies in December, Kejriwal inaugurated one of the biggest toilet complexes of Delhi in Kalkaji.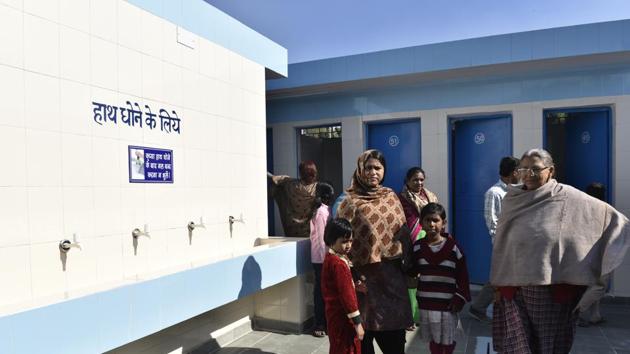 Till now the AAP government has installed 7,000 toilet seats and wants to add 7000 more before March, the likely date of municipal elections. Apart from the 142 toilet seats and six bath halls opened at Kalkaji, Kejriwal inaugurated 797 toilet seats in the city on Tuesday alone.
Toilets were unanimously deemed one of the biggest needs of the locality by residents, officials and politicians. Kalkaji MLA Avtar Singh said that when he first visited the area at the time of campaigning, he was appalled to see the condition of the toilets.
"I was ashamed that our citizens didn't have the facilities to relieve themselves with respect and dignity. The facilities had no doors and smelled horrible. People have the right to clean facilities," he said.
The toilet complex, which cost Rs 95 lakhs to build according to the MLA, will have 73 toilet seats for men, 65 for women and four for differently abled, along with six bath stalls. Residents will be able to avail the services at a nominal price of Re 1. The facility is free for children below 12 years of age and differently abled.
"Our city needs 14,000-15,000 toilets. We have already constructed 7,000 toilets. I am confident that the next 7,000 toilets will be done in two years. We have got the funds sanctioned," said Kejriwal.
Kejriwal also highlighted the importance of clean facilities, and urged people to help maintain the cleanliness. "These toilets are clean and beautiful on the day of the inauguration. A few days later, we see that they are dirty. The sanitation staff will take care of the place, but users must also help keep it clean," he said.
"Apart from constructing new toilets, we have repaired and upgraded the existing ones. We have installed taps in 80% of the toilets and regular cleaning is done," said a DUSIB official.
DUSIB has plans to construct 2 lakh public toilets across Delhi of which 1.5 lakh will be in slum clusters. According to senior Delhi government officials, one of the major reasons behind the lack of toilet complexes is that most of the slum clusters are not connected to the sewerage system making it difficult to even put up a temporary mobile toilet facility there. DUSIB had conducted a survey and found there are 259 open defecation spots in Delhi.