Fog delays trains in Delhi, flights 'normal', visibility dips in Noida and Ghaziabad
Hindustan Times |
Vishal Kant & Abhishek Anand
Dec 09, 2016 11:17 AM IST
72 trains were delayed, 30 rescheduled and two cancelled, owing to thick blanket of fog across the northern plains
: Fog continued to engulf Delhi on Friday morning reducing visibility, but flight operations remained 'almost normal' at the IGI airport, officials said.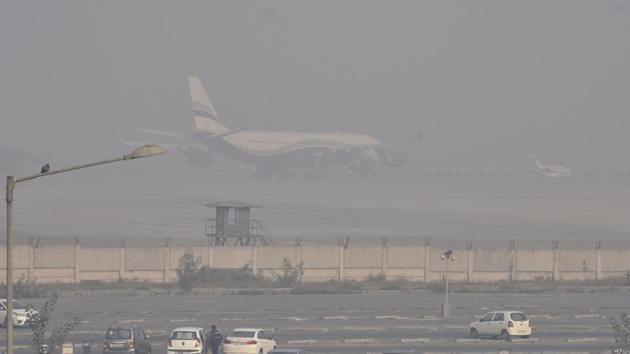 The Indian Meteorological Department (IMD) officials said visibility at Palam airport at 5.30 am was around 600 metres. News agency ANI, however, reported that 19 domestic and international flights were delayed or diverted at the Indira Gandhi International Airport while around 16 flights were cancelled.
However, train operations in the Capital remained severely crippled with about 100 trains running behind schedule, ranging from four to over 30 hours. A total of 72 trains were delayed, 30 rescheduled and two cancelled, owing to thick blanket of fog across northern plains, railway officials said.
The regional Met department said the lowest visibility at Palam airport was 600 metres at 5.30 am, while at Safdarjung airport visibility was 1000 metres.
The Indian Meteorological Department (IMD) recorded a minimum temperature at 8 degree Celsius, while maximum is expected to be 25 degree Celsius.
The Air Quality Index (AQI) is predicted to be in the "poor" category on Friday, according to state-run System of Air Quality Weather Forecasting and Research (SAFAR).
Sudden dense fog catches Greater Noida residents by surprise, throws traffic out of gear
Sudden dense fog caught the residents of twin cities by surprise. On Friday morning, the weather was clear till 6.20 am. Fog rose all of a sudden from all directions in Greater Noida throwing traffic out of gear. The fog also engulfed the high-rise societies and the poor air quality forced residents to keep their doors and windows closed.
Against the normal level of below 100, particulate matter (PM) 10 level was recorded at 238 µg/m3 and the PM 2.5 level was recorded 317 µg/m3, which falls in the "very poor" category, according SAFAR.
"It's impossible to reach on time anywhere in this dense fog. Moreover, no traffic signals in Greater Noida work during morning hours. I have informed my office that I will be late and will drive only when visibility increases," said Gaurav Tyagi, a resident of Bisrakh of Greater Noida west.
Visibility decreased to 50-100 meters at Yamuna and Noida-Greater Noida Expressway forcing commuters to turn on traffic lights and drive with parking lights on.
"It is advised that drivers and riders should install fog lamps and drive with utter precaution during fog," said PP Singh, SP (traffic), Noida. He said traffic police personnel were deployed at major crossings from early morning hours to manage traffic during fog.
In spite of district magistrate's orders, many schools at Greater Noida started early in the morning with school busses ferrying students in dense fog. The DM had ordered all private and government schools to change timings due to cold and fog and start after 9 am.