Let's talk about rape: Turning girls into timid women, boys into bullies
Dec 22, 2016 12:26 PM IST
The minor's involvement raised a few questions. What drove the teenager — now an adult working at dhaba at a roadside eatery— to act with such brutality? What happened to the age of innocence?
When the 23-year-old paramedic was brutally gang raped in Delhi in a moving bus and later left to die on the side of a road on December 16, 2012, India reacted with shock and horror. The incident shook the collective conscience of the nation and triggered violent protests in the Capital, sparking a national debate on women's safety in India.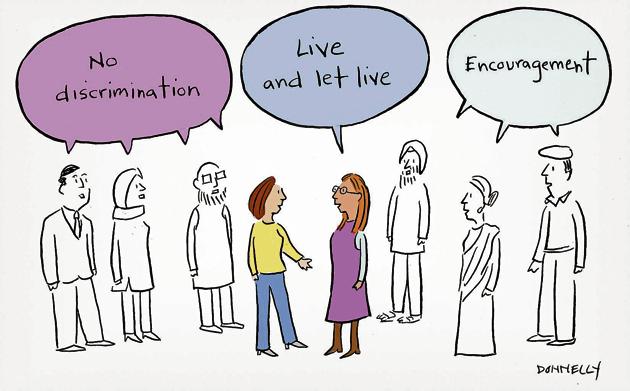 What shocked the nation even more was the news that one of the six perpetrators was a minor — the most brutal of them of all, as the police put it.
Stay tuned with breaking news on HT Channel on Facebook.
Join Now
The minor's involvement raised a few questions. What drove the teenager — now an adult working at dhaba at a roadside eatery— to act with such brutality? What happened to the age of innocence?
Now for a reality check. Official data over the years shows more and more young people are taking to heinous crimes such as rape. Rape was the third most prevalent crime among juveniles in India in 2015 after theft and trespassing or burglary, says National Crime Records Bureau data. In 2015, more than 41,000 juveniles were apprehended across India, 1,841 on rape-related charges.
One thousand six hundred and eighty eight cases of rape were registered against juveniles in India, 119 in Delhi, under Section 376 of the IPC.
Minors were booked in 88 cases of gang rape — four in Delhi.
There's more. The same year, 1,439 cases were registered against juveniles across India under Section 354 of the Indian Penal Code (Assault on Women with Intent to Outrage her Modesty). One hundred and forty-two of these cases were in Delhi.
Under Section 509 of the IPC, Insult to Modesty of Women, 111 cases were registered across India, of which 20 were in Delhi.
The statistics are a grim portrayal of the state of affairs regarding minors in conflict with law and raise a pertinent question, where did we go wrong ?
Experts on gender, sexual violence and aggression agree that many a time it is our patriarchal society that derails the attitude of young boys against women.
Stereotypical gender roles that assign certain 'duties' and 'ideal behaviours' to people based on their gender distort our worldview and can impact the way men treat women, they said.
"From a very young age, boys learn by observation that they are special just because they are boys. There is lack of accountability, which makes them think that they can get away with anything," said psychiatrist Smita Deshpande.
She explains how kids are exposed to an imbalanced power system, from almost the day they are born, which sways in favour of men.
The sense of invincibility makes them believe people will excuse their deplorable behaviour with the common refrain, "boys will be boys".
Girls at a government school in Delhi narrated how they are harassed and bullied by boys, all of their age. The girls are on the morning shift. The boys are in the afternoon shift and harass the girls when they leave school.
"I have had to deal with two boys who follow me home every day after school. They passed lewd and aggressive comments. The comments varied from proclamations of love to outright threats of violence," said one of the girls who identified herself as Sana.
Most of the boys denied harassing the girls but acknowledged they knew "someone" who did. Why did the others do so? "It's all in just good fun," one of them said. They probably don't have mothers and sisters at home," he said after a thought. One answer summed it. "Kar sakte hain to karte hain (They do it, because they can do it)," said Ajeet.
This sense of entitlement is reinforced by society, and set norms at schools and homes. "Even simple things such as expecting the girl child to do all household chores, sometimes even at the expense of her education or hobbies, reinforces a belief that men should be preferred. They are superior. It teaches our kids women are at the 'service' of men," Deshpande said.
Children are not born violent, or aggressive, or disrespectful of women. They learn to be so from grown-ups and other sources. Ashok Pandey, principal, Ahlcon International School, put it in perspective.
"Children learn and internalise things by observing their parents and society. They see the gender roles in society where the father works and orders the mother. The brother is more valued and gets preferential treatment.
All this leaves a lasting impact on how girls and boys view their roles in society. As educators, it is our responsibility to break these stereotypes while they are young."
Some of the boys agreed what they observe in everyday life can affect their behaviour. "I know some of my schoolmates harass girl students by passing comments, staring or following them. I think most of these kids have seen someone older doing it," said Akash, a Class XII student.
Schools reinforce similar stereotypes, the psychiatrist said.
At the government school concerned, the principal of the boys' section explained: "Students are very well aware what they are doing is wrong. They understand they are harassing these girls. However, they do not think they should be held accountable. Even if they know it is wrong, unko ek baar mazaa chakhna hota hain (they want to enjoy just the one time)."
The girls at this school are not alone — almost every other female student has a story of stalking or harassment to share. Neither is the problem endemic to a certain socio-economic class.
Shivangi, a student at a prestigious school in Delhi, lives with similar fears. "My classmates are good, even the boys. But I feel scared every time I have to step out. There is the potential of real harm in every stare, every aggressive comment, and every lewd gesture," she said.
Many girls do not find the courage to raise their voice. The atmosphere of fear can choke every ounce of courage and reason they might have. Many young girls at the cusp of womanhood suffer in silence as they fear retaliation if they raise their voices.
Their fear is so far reaching that student who initially agreed to write for HT later said she did not want her letter to be published. She had addressed her male schoolmates, who she claims look at her and her classmates as "mere objects".
Her parents feared the boys would retaliate if they knew she had written an open letter. "Can you guarantee that nothing will happen to my daughter? If someone hurts my child, what will I do?" her mother's pleaded.
Sana explains the fear. "People advise us to keep quiet. They warn us that the boys could possibly hurt us in much worse ways if we complain."
It is a no-brainer that "hurting" is just a euphemism for rape. And that too by youngsters her age.