'Pulling along' in a man's world: Meet Delhi's female rickshaw puller
Sep 24, 2016 09:49 PM IST
Meet Ranju Devi, mother of three, who holds her own in a profession almost completely dominated by men.
Now you see her, now you don't. Amid the sea of rickshaw pullers haggling with passengers, there is a good chance you might miss this lone, unassuming woman trudging along with her cycle rickshaw.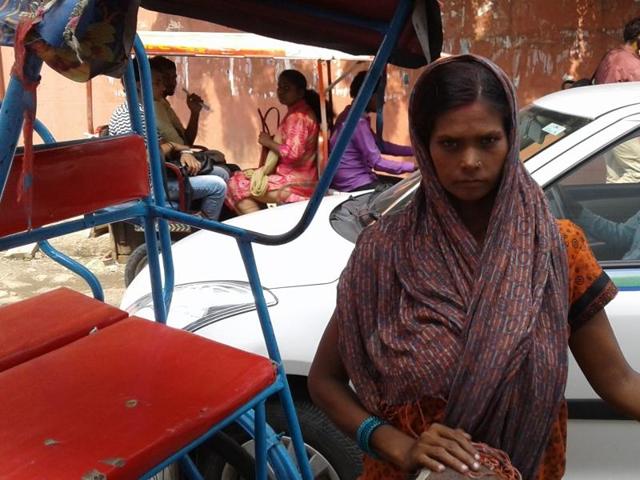 But as she gracefully brings the vehicle to a halt, it's hard not to notice her -- with her striking features and artificial jhumkas adorning her ears.
Meet Ranju Devi, mother of three, who holds her own in a profession almost completely dominated by men.
Ranju became a cycle rickshaw puller in order to supplement her family income.
"My husband is a rickshaw puller but alcoholism did him in. He used to spend most of his time with the bottle, hardly bringing any money home and spending whatever he earned on more liquor. One day, I decided to take matters into my hands and do something to feed my children," says Devi, who appears to be in her 30s.
"It's been one-and-a-half months since I took to driving the cycle rickshaw," she adds.
Many of Ranju's friends work as maids in the vicinity, but this was not an option she had.
"Employers these days have become very careful; they want their servants to be properly verified. But I have no identity proof -- be it an Aadhaar card or any other document, leaving me with very few choices," says this native of Samastipur, Bihar.
Devi largely operates in and around the Dwarka sector-10 metro station.
Being a woman doing a man's job has its ups and downs, she says.
"I do get stray comments and remarks from men here and there, but I have not faced much harassment, to be honest. They mostly mind their own business, and I, mine," she says.
On whether she faces physical challenges doing her job given her slight frame, she says: "Yes, it is a job that requires you to be physically tough which is why I have to be choosy with my passengers. I prefer 'single sawari' but if it has been a rough day, I somehow pull myself together and accept whatever comes my way. Even the passengers are a bit hesitant about my capabilities but I manage to find a few every day and bring home some money."
Devi earns anywhere between Rs 125 and Rs 150 a day, out of which she pays Rs 50 to the owner of her rickshaw.
"What I am left with is hardly anything to support a family of five but at least, I can ensure that my children – aged 5, 3 and 1 – eat at least one meal a day. Thankfully, my husband has no objection to my pulling a rickshaw," she says.
Devi calls herself "too poor" to have any aspirations.
"I have a huge tumour on my neck and I hope I can earn enough to go to a hospital and get it removed. I want to put my children in school as well," she sums up her life goals.
"Also, I hope more women join this profession; I feel very lonely waiting for passengers while the other rickshaw-wallahs chat and joke among themselves," she adds, as an afterthought.
"Exciting news! Hindustan Times is now on WhatsApp Channels
Subscribe today by clicking the link and stay updated with the latest news!"
Click here!