Rape threat hangs over women even at homes
Dec 16, 2016 12:52 PM IST
Swept under the rug: Incestuous abuse, domestic violence, child sexual abuse and marital rape have become a part of the dirty laundry of many households, but are too taboo for public discussion.
Every time a woman steps out of her house, she is warned: Be careful; try and not go out at night. Society scares her with the spectre of the vicious stranger lurking in dark alleys ready to strike. She is told to be unassuming and be "aware" of her surroundings.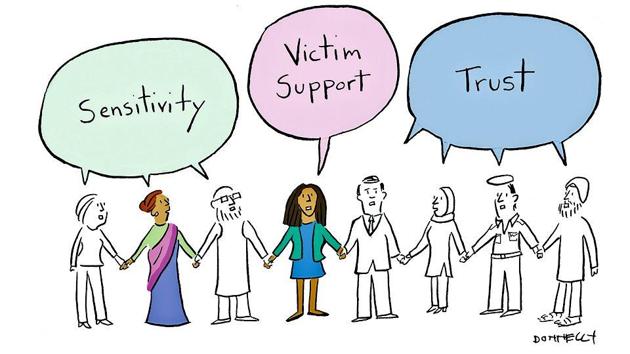 But a far-less asked question is how safe women are within the confines of the four walls of their own homes. This is dangerous, considering statistics show that an increasing number of women face sexual assault inside their houses at the hands of people they know.
Stay tuned with breaking news on HT Channel on Facebook.
Join Now
Incestuous abuse, domestic violence, child sexual abuse and marital rape have become a part of many household's dirty laundry but are too taboo to be discussed in public – but this reticence only hurts the victims who struggle to report their abuse.
Read | A mother's open letter: Dear son, let's talk about rape
"Women are not safe anywhere, not at home and not when they step out. Abuse at home is not just an aberration," says Anuja Gupta, founder and executive director of RAHI foundation, a one-of-its-kind NGO that offers support to survivors of incestuous abuse.
The subjugation of women at the hands of men and patriarchal power begins early and inside the home. Many women have their first brush with abuse, harassment and molestation at a young age.
"There are hidden secrets in every family. Incestuous abuse is the biggest one," says Gupta. Such incidents cut across socio-economic backgrounds, she adds.
A study by her foundation revealed that eight of 10 women surveyed reported some form of sexual abuse during their childhood and adolescence.
40% of these women also said they were survivors of incestuous abuse and had been assaulted or harassed by at least one family member. "In fact, in many cases the abuser is the father," says Ashwini Ailawadi, the co-founder of RAHI.
A 26-year-old child sexual abuse survivor recalls her own personal nightmare. "I was six when I was first made to touch somebody; 13 when somebody first touched me-- a cousin spent the entire duration of a movie with his hands between my legs. My brother was sitting right next to me, on the other side. But in the darkened movie hall, I was frozen with fear and could not find my voice to call out to him," she says.
A 2007 woman and child development ministry study said more than half the child population in India (53.22%) faced sexual assault.
To bring the massive number down, the government enacted the Protection of Children from Sexual Offences (Pocso) Act in 2012 but its impact has been limited.
Over the past four years, 15,039 children have been identified as victims of assault under Pocso, the National Crimes Records Bureau (NCRB) says.
But experts say the numbers don't reflect the thousands of people who don't report their abuse or are silenced by a web of shame and intimidation.
"It is practically impossible for a child to speak up against an adult; especially if the adult is liked by family members. The silence is built into the abuse itself; the kind of influence the abuser might have on the child. Some might be worried about angering their parents," says Gupta.
Child sexual abuse been discussed in movies such as Monsoon Wedding where Shefali Shah's character is left a shadow of her former self after surviving abuse at the hands of an older uncle. In the 2014 movie Highway, Alia Bhatt renders a powerful monologue confronting her 'Shukla Tayaji' who abused her as a child.
Shah's character is admonished by her family, including women, who say she is overreacting because she is unmarried. In real life too, this reluctance to believe their narrative can further violate children, who may be discouraged to discuss any assault further.
"But anyway, it is not the responsibility of the child to talk about it; the question should be what can adults do to create conditions of disclosure," says Gupta. Adults and guardians should take signs of abuse – such as sudden change in behaviour – seriously and try to have open, honest conversations with their children.
But it is not just minors but also adult women who face violence at home. Marital rape is still spoken of in hushed tones and not considered a crime because it is assumed a husband has rights over his wife's body.
A 2014 study conducted by the Rice Institute showed that in 97.7% of instances of rapes, the victims identified their husband as the aggressor. According to sociologist Patricia Uberoi, this could be because sex is seen as the husband's right, a woman's consent be damned.
"There is this general understanding that marriage entitles a man to his wife's body. The woman is expected to be available just by virtue of marriage," she explains.
Most of such cases go unreported – the Rice Institute study said only 0.6% of rapes by husbands make it to the police books as complaints. Last year, the NCRB said just 2% of India's 34,651 rape cases identified the husband as the perpetrator.
Experts say the low numbers are spurred on by the law, which doesn't recognise marital rape -- section 375 of the Indian penal code says a man cannot "rape" his wife unless the wife is less than 15 years of age.
"The Verma commission initially agreed on the idea of marital rape but it was not acceptable to the parliamentary committee. This may be because Parliament is predominantly men, and men do not want to accept that this occurs. They argued that 'you can't bring the state into the bedroom,'" says Ranjani Kumari, an expert who presented arguments before the Justice Verma Commission set up after the 2012 Delhi gangrape case.
Human rights lawyer Karuna Nandy busts another supposed myth around marital rape – that of false complaints.
"False claims are very few, and convictions based on these are fewer. We need to understand though a woman's claims have weight, the court still needs proof and evidence for a conviction," explains Nandy.
She also calls the 'marriage is sacred' claim dubious. "Marriage may be sacred, but are you also making rape sacred?"
Such attitudes further discourage women from reporting cases of abuse. In a society that worships women as gods, it is disheartening to know that women are left without support and vulnerable to violence even in the supposed safety of their own homes.
Let's Talk About Rape has been illustrated by Liza Donnelly, a celebrated New-York based cartoonist and writer best known for her work in The New Yorker Magazine.