Read with your children at the World Book Fair
Jan 07, 2017 09:53 PM IST
Parents who were visiting the fair with their children said it was interesting to see their kids read the books that they grew up on
Parents can relive their childhood at the New Delhi World Book Fair that opened on Saturday. On the first day, many were amused to see how children still loved the titles they read decades ago, falling in love with Enid Blyton's Famous Five, Roald Dahl's Charlie and the Chocolate Factory, and Ruskin Bond's The Room on The Roof.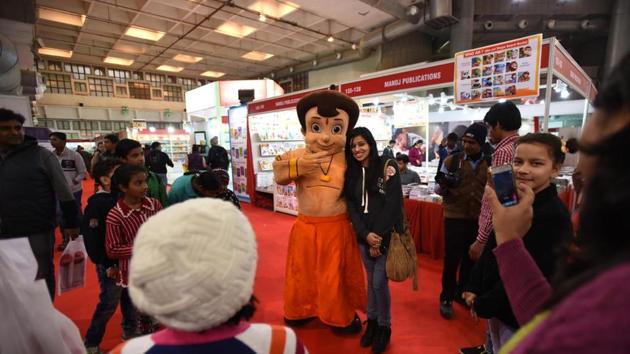 Parents who were visiting the fair with their children said it was interesting to see their kids read the books that they grew up on. "I used to read a lot of Amar Chitra Kathas, and Panchatantras, growing up. These were short stories. But my first real 'book' was an Enid Blyton; The Famous Five. It is interesting to see my son read the same now. It makes me feel old and young all at once!" claimed Usha Nair, a visitor at the book fair.
Stay tuned with breaking news on HT Channel on Facebook.
Join Now
One of the most popular pavilions at the fair this year, the children pavilion has books, bags, and other accessories geared towards them. With a plethora of titles available at most bookstores, traders and visitors claim that classics still rule the roost.
"Kids come in asking for books by Bond and Blyton. Comics that have been popular for decades like Tintin, are still favourites among kids and adults alike," said a staff member at the Penguins Books stall.
Mukesh Kumar, the book fair senior executive at the Scholastic book stall also claimed that oldies are still preferred. "The RL Stine Goosebumps series are very popular even today," said the man who has been a book fair veteran.
"I love reading books, my father calls me a book worm! Charlie and the Chocolate factory is one of my favourites. I like the adventures that Charlie goes through when he enters the factory. The chocolate river just makes it even more special," said Deepanshi Malhotra, a fifth grader from DPS Noida. Her mother, Vandana Malhotra, also said that she had fond memories of reading books by Dahl as a child.
With a finger on the pulse of the new generation's likes and dislikes, stalls also offer a lot of the newer popular titles; like the Diary of the Wimpy Kid series and the Stilton series.
During times when reading habits are allegedly on the decline, Ruchi Batra, who was visiting the fair with her book- lover daughter said that the onus was on parents to encourage children to read. "The dependency on gadgets grows because parents don't have the time to guide kids. They need to take the time out to ensure that children read, as this paramount for their cognitive growth," she said.
Baldeo Bhai Sharma, the chairman of the National Book Trust, also expressed similar ideas while addressing the gathering during the inauguration ceremony on Saturday. "We should gift our kids books, instead of other material things. This will help inculcate reading habits in them," he said.
Another parent, Deepika, explained that books are irreplaceable in a child's life. "Screens and books are not substitutes for each other. They are complimentary. We have iPads, and laptops at home. But our son also has a personal library," she said.
The children's pavilion also has events like poetry recitation, storytelling sessions, painting competitions, skits, quiz competitions and dance programs scheduled in the coming days.
The New Delhi World Book Fair was inaugurated by Dr Mahendra Nath Pandey, the minister of state for human resource development (higher education) on Saturday, and is expected to run until January 15th, Sunday.