Shiv Sena sings a different tune in MCD polls: Promises Chhath puja ghats, Bhojpuri movies
Apr 21, 2017 09:32 AM IST
Shiv Sena, which has fielded nine Purvanchali candidates in the MCD elections, has been trying to woo voters from the Hindi heartland in Delhi with promise to develop new puja ghats and promote Bhojpuri movies.
Shiv Sena, which is infamous for targeting migrants from the Hindi heartland in Maharashtra, is singing a different tune in Delhi ahead of the municipal election on April 23.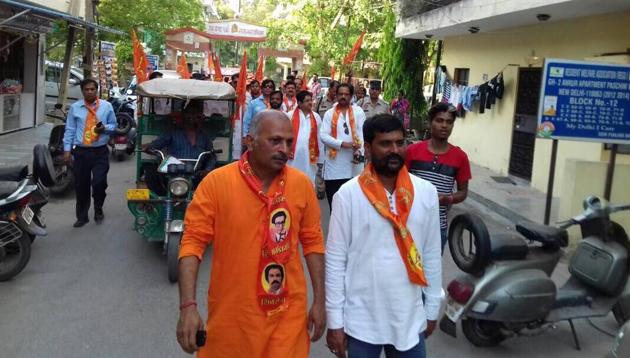 The party promises to promote Bhojpuri films and construct Chhath Puja ghats in each ward if they win considerable seats in the corporation elections.
The party's Delhi chief Neeraj Sethi told HT, "We believe in development of sons of the soil but at the same time ensure that every section is looked after. For our Purvanchali brothers we want to construct Chhath Puja ghats in every ward."
"We have been helping them organise Chhath festival for the past few years. Last year, the party had organised Chhath Puja on a large scale in Nihal Vihar and Sangam Vihar," Sethi said.
Purvanchalis now constitute almost one-third of the total population of Delhi and command considerable sway in elections and all major parties claim to be fielding Purvanachali candidates in the municipal polls.
Shiv Sena too has fielded nine candidates from Purvanchal region on the 57 seats that it is contesting in corporation polls, including Paschim Vihar, Madipur, Punjabi Bagh, Kakraula, Mubarakpur Dabas, Prem Nagar, Bhalswa, Mukherjee Nagar and Harkesh Nagar.
To woo Purvanchali voters, Chhath Puja has emerged in every party's manifesto with both BJP and Congress promising more ghats in every ward and AAP government providing Rs 20 crore in its budget for the construction of ghats. Shiv Sena too is eyeing the Purvanchali pie in this election.
Shiv Sena's Bihar unit president Kaushlendra Sharma, who is presently campaigning in Delhi for corporation polls said, "We want to bring the Brihanmumbai Municipal Corporation (BMC) model in Delhi's municipal corporations."
In BMC, a tax rebate is given to cinema halls that screen Bhojpuri movies with a view to promoting regional movies, he added. "In Delhi, we want to do the same," he said.
"If we get enough seats we will put pressure for tax rebate on Bhojpuri movies," he said. The corporations of Delhi charge Rs 10 per show in Delhi.
"There is a misconception that Shiv Sena is against the people from Hindi heartland. In Mumbai's corporation schools, besides Marathi, Hindi is also promoted by Shiv Sena. Very few people know in north India but there is also a Hindi version of the Marathi newspaper Samna, named Dopahar Ka Saamana, which is edited by Shiv Sena leaders," he added.
Shiv Sena candidate from west Delhi's Paschim Vihar Sanjeev Sahay, who is from Bihar's Bhagalpur district said, "Nowadays Purvanchalis have become a vote bank. People talk about them in terms of percentage. This kind of politics by other parties will not benefit them."
"Shiv Sena believes in helping all communities to come forward," he said.
Another, Shiv Sena candidate, who did not wish to be named said, that a section of Purvanchalis in his constituency are apprehensive of Shiv Sena. "However, I tell them that it is not Shiv Sena but another party in Maharashtra that targets people from UP and Bihar," he said.