Trade fair in Delhi gets high on Sunday, food
Nov 21, 2016 12:06 PM IST
The India International Trade Fair seems to have reclaimed some of its sheen, with an influx in the number of visitors on Sunday.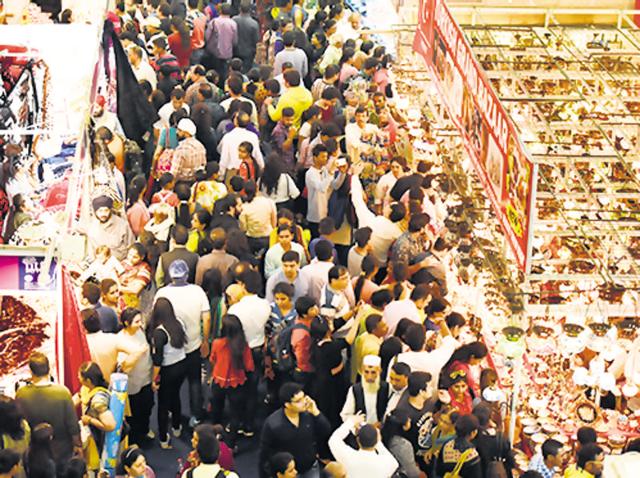 The fair, which can be a feast for your senses with bright lights, loud music and enticing fragrances, is a must visit for any foodie looking to try authentic local food from various parts of the country.
On Sunday, the trade fair seemed like its old self, with a huge number of people finding their way to Pragati Maidan. "Approximately 1.5 lakh people visited the fair on Sunday. This is almost as many visitors that we recorded on weekends during the previous years," said Vikas Malhotra, general manager, corporate communications division at the India Trade Promotion Organization (ITPO).
For foodies headed to the fair, scouting the exhibition grounds and halls —that span over 65,000 square meters — might be exhausting unless they refuel every once in a while. The various food stalls at the venue are the answer to their hunger pangs.
On Sunday, HT spotted people queuing up at food stalls from as early as 5.00 in the evening.
Rajasthan cuisine was Sunday's clear winner, with many praising the pyaaz ki kachauri and mirchi ki bhajiya. "I would definitely recommend the kachoris to anybody who asks me about it," said Abhiti Agrawal, who had just had her fill at the Pragati food court no.2.
Stalls selling Maggi, near the Park Balluchi food court, also drew huge crowds with kids queuing up to eat what they said was their 'comfort food'. "Everybody loves Maggi!" claimed 10-year-old Gaurang Bhatia, while slurping a long noodle.
Many of the foodies seemed unfazed by the demonetisation of ₹500 and ₹1,000 notes. "We came well prepared, we had to. Food stalls don't accept old notes and many of them don't have other cashless payment options like card swipe machines or Paytm," said Manpreet Kaur.
However, a lot of food vendors at the venue complained that business was slow. "Sunday was definitely better than the earlier (business visitors) days. But I have been here before. Compared to previous years, business is slow this year," Jainendra Singh, who runs the taste of West Bengal stall.
"A lot of the people turn up with ₹500 and ₹1,000 notes. If we tell them we don't accept it, they won't buy anything. So, even though there are larger crowds today, sale is not better," explained Manish Gupta, a food vendor from Bihar.
"Just now I had to turn two young boys away who only had one ₹500 note. They claimed that they were hungry, but I cannot accept that money. I felt bad denying them food," said Bindu Udayan, from Kerala.
Abhay Kumar, from Madhya Pradesh, claims that though he was a staunch supporter of Modi and the BJP, he is not sure about the new move. "We have had to reduce our prices. The demonetisation may have been a good move, but unfortunately there was little to no planning about how to deal with the consequences after," he said.
Many vendors said they were promised card swipe machines and other facilities to ensure cashless transactions, but got little help from the organisers. "We were told we would get a machine soon. But we are yet to receive one. This is killing our business," claimed Jagdish from Rajasthan, who sells the popular pyaaz ki kachoris.