Affirm faith in the Constitution
Jan 25, 2023 08:57 PM IST
The founding document has helped the Republic grow and flourish. Use it to navigate future challenges
Sometime near the end of spring this year, India will officially overtake China as the most populous country on earth, introducing a raft of new challenges not unlike what the Republic faced 73 years ago. The government will have to tackle a belligerent China and manage a volatile Pakistan, while acting as a bridge between world powers in a newfound seat at the international table. It will have to work hard to reverse the years of classroom teaching that the pandemic shaved off; generate millions of jobs and restructure the economy to keep an increasingly restless young population occupied, or risk missing exploiting the demographic dividend; bridge old fault lines of caste and faith that may have deepened in recent years by majoritarian posturing; manage rising tensions between a strong Centre and a group of regional governments over federal power and fiscal arrangements; and negotiate newer anxieties such as elderly care and pension burdens. If this is a throwback to the early days of the Republic, an entirely new concern has also set policy in ferment — the climate crisis. Weather shocks are only likely to intensify, wreaking havoc not only on vulnerable communities and during natural disasters but also on food security, defence postures and development goals.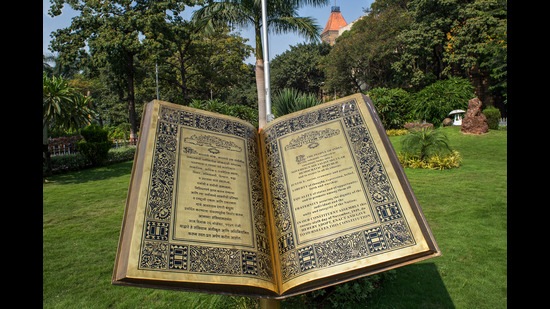 In the face of such uncertainty, the Constitution can act as the nation's ballast. Over the last seven decades, this extraordinary document has steadied a young nation bruised by colonialism, salved the pain of social and economic inequality to help universal adult franchise sink roots into society, and held true the promise of a life of dignity that the nation promised itself at the moment of Independence. A nation bruised by Partition has been successful in bestowing an extraordinary charter of rights on all its citizens, deepening the principles of equality. The Republic has endured and the democratic spirit has sunk roots and blossomed.
It is, therefore, time to reaffirm faith in the spirit, not just the letter, of India's founding document. An editorial in this newspaper on January 26, 1953, warned of the dangers of complacency, noting that while some national achievements were indeed laudatory, the challenges were grave and needed dedication to resolve. The advice holds true even today.
Enjoy unlimited digital access with HT Premium
Subscribe Now to continue reading