Ending sewer deaths will need monitoring
Feb 02, 2023 07:06 PM IST
On Wednesday, the Union government made a renewed effort to stamp out this practice. This is an important move.
A decade ago, India banned manual scavenging. Yet, the shameful practice that forces workers to clean waste by hand, and enter sewer lines to clear them of sludge, has remained pervasive. The government told Parliament last year that at least 321 people died in the past five years from cleaning drains, often by hand and without protective equipment, though due to a definitional sleight of hand, they aren't considered manual scavengers.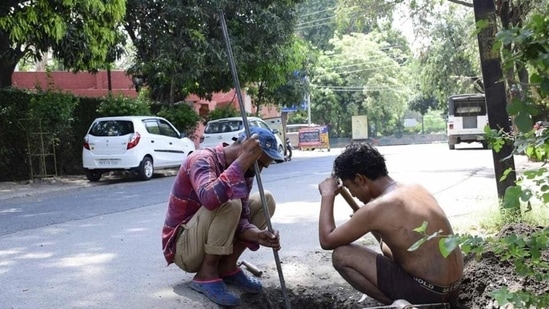 On Wednesday, the Union government made a renewed effort to stamp out this practice. As part of the Union Budget, finance minister Nirmala Sitharaman said all cities and towns will be enabled for 100% mechanical desludging of septic tanks and sewers to transition from "manhole" to "machine-hole" mode. Enhanced focus will also be provided for the scientific management of dry and wet waste.
This is an important move, not only because a large number of sewer cleaners come from Dalit and marginalised communities but because the practice sits uncomfortably with the vision of India looking to occupy a position on the global stage and the promise of dignity made by the Constitution. The implementation of the 2013 Prohibition of Employment As Manual Scavengers and Their Rehabilitation Act has been patchy, compensation efforts uneven, and oversight almost non-existent — due to the apathy of municipal authorities, local governments and contractors who prefer cheap labour. The promise of technology, too, has been made, only to stumble at the implementation stage. The State needs to institute mechanisms for follow-up, grievance redressal and monitoring to ensure that downtrodden communities can break out of a generational cycle of exploitative employment.
Continue reading with HT Premium Subscription
Daily E Paper I Premium Articles I Brunch E Magazine I Daily Infographics