Look beyond stop-gap steps to fight bad air
Jan 23, 2023 07:15 PM IST
Grap is an emergency plan, not a long-term solution. Delhi's residents have been waiting a long time to find out what the long-term solution is
Delhi's air quality took a sudden dip again on Sunday, with the Capital recording an air quality index (AQI) of 407 (severe) at 4 pm, according to the Central Pollution Control Board. This sharp spike (the highest in 12 days, a departure from the recording of 294 AQI or poor on Saturday) happened due to a reduction in wind speed and higher-than-normal temperature (it was three degrees above normal for this time of the year at 24 degrees Celsius) on Sunday. The twin factors reduced nature's ventilation ability, trapping the local pollutants, such as motor vehicle emissions, wood-burning fires, exhaust from diesel generators and dust from construction sites. Sunday was the third severe air day in the Capital in January — AQI soared to 434 and 407 on January 9 and 10, respectively. It was also more evidence of the fact that Delhi's air is always bad and needs minor nudges from the weather or extraneous factors (such as stubble burning) to become worse.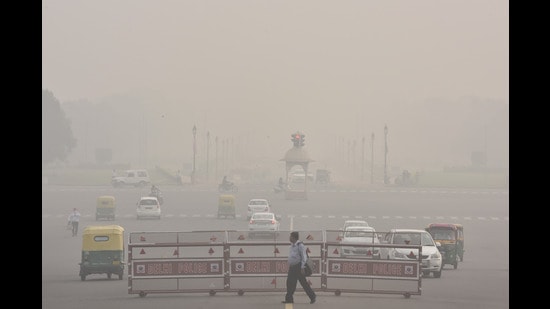 On Sunday, the Commission for Air Quality Management (CAQM) did not invoke stringent measures under the Graded Response Action Plan (Grap) Stage-III as it said Sunday's conditions were an "aberration" and that forecasts have shown that air quality is likely to improve again from Monday since light showers are expected. According to the categories defined under the new Grap, Stage III should be invoked when the AQI is forecast to cross 400 or has crossed that threshold. That did happen.
But the larger issue is that Delhi's battle with air pollution can no longer be limited to a few months of the year or such stop-gap emergency responses. As this newspaper has noted before, only a holistic approach that combines immediate, short-term steps with long-term planning and focuses on the scientific, environmental and socioeconomic factors that exacerbate pollution can work in the long-term. Grap is an emergency plan, not a long-term solution. Delhi's residents have been waiting a long time to find out what the long-term solution is.
Enjoy unlimited digital access with HT Premium
Subscribe Now to continue reading