Science must drive policy
Feb 06, 2023 10:06 AM IST
The government may want to consider undertaking a comprehensive study of vulnerable ecosystems and earthquake-sensitive zones in the Himalayan region so as to create robust baseline geological knowledge about these areas
Residents in Jammu and Kashmir's Doda town are in panic after 300 people were moved out on Friday as deep cracks appeared across several structures, and at least three buildings collapsed. Coming just weeks after demolition began in Uttarakhand's Joshimath, where authorities are busy removing structures rendered too compromised by deep cracks and sinking foundations, the new incidents have naturally sparked a wave of concern in the region.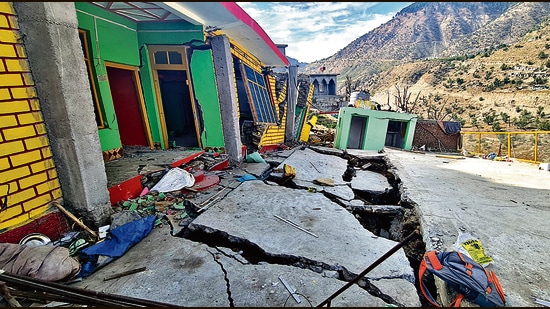 Authorities have signalled that the cause of the problem, and its extent, is not yet known in Doda. A team of geological experts have started their analysis and visited the region on Saturday to collect samples from affected areas. This report should be expedited in a transparent manner, so as to alleviate panic and precipitate science-backed action. In the meantime, the local government must consider helping out families who have had to leave their homes and belongings.
In Joshimath, despite cracks appearing in residential buildings and the ground sinking in some neighbourhoods in the initial days, local authorities did little. Residents alleged how repeated complaints didn't move the needle, and the administration only started paying attention when the crisis had spread beyond one neighbourhood. The disaster in Joshimath – which earlier was characterised as land subsidence, only for some scientists to suggest later that it may have been a landslide – showed us how important timely and scientific research is for citizen welfare and public good. The tragic but critical lessons learnt from Joshimath must now be applied to Doda without any delay.
It is too early to say what caused the cracks to appear in buildings in Doda, and whether there was any connection to road projects and infrastructure development, or the fact that the region sits on seismic zone 4, which indicates a high likelihood of destruction from earthquakes. Still, the government may want to consider undertaking a comprehensive study of vulnerable ecosystems and earthquake-sensitive zones in the Himalayan region so as to create robust baseline geological knowledge about these areas– which will be useful not only during natural and human-made disasters, but also to evaluate big-ticket infrastructure and power projects, and whether a fragile ecosystem can support them. Far too often, scientific reports and assessments are pushed on the back burner – either delayed or not taken seriously. Yet, the tremendous human and environmental costs of similar tragedies tell us that it is time to give science a far bigger role in drafting public policy.
Enjoy unlimited digital access with HT Premium
Subscribe Now to continue reading