The BJP presents its 2024 plan
Jan 17, 2023 09:27 PM IST
PM's focus on ground connect, marginalised, and young people may shape the poll narrative
Sixteen months before the next general elections kick off, Prime Minister (PM) Narendra Modi's speech to the Bharatiya Janata Party (BJP)'s national executive meeting gave the first glimpse of how its electoral strategy is shaping up. In his closed-door speech — as elaborated by Maharashtra deputy chief minister Devendra Fadnavis — the PM's message underlined three broad aspects: Deepen the grassroots network, especially in aspirational districts; focus on marginalised people even as the party moves towards becoming a social movement; connect with young people, especially first-time voters and people who attained adulthood after the National Democratic Alliance (NDA) came to power in 2014.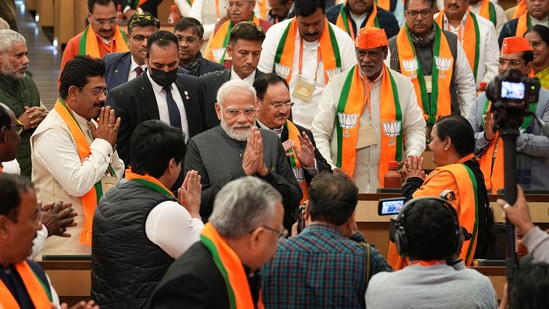 The BJP is sitting pretty atop India's political pyramid; there appears no political challenge on the horizon and Opposition parties are either busy defending their turf or still at the drawing board. Yet, the focus on aspirational districts and ground-level connect shows that the BJP is cognisant of the difficulties of maintaining its hegemony, especially in the face of global economic headwinds that may crimp incomes and hurt job growth. Poorer districts are regions where the benefits of the government's delivery push are likely to be most pronounced — an extension of the party's successful strategy of corralling welfare beneficiaries as a support base. The attention on young people may also be connected to efforts to manage aspirations (a thorny electoral challenge of long-serving governments worldwide) and striking a contrast between the current government and the administrations of the past, telling this key demographic that while they may face some economic and governance problems, life under past regimes was tougher. That the BJP is attempting to move beyond a political party into a social movement is also telling, and marks a direction that has been unfamiliar for Indian democracy since the first decade of Independence, when the Congress sought to be a grassroots social movement, which also translated into a stranglehold on electoral politics and arms of governance.
Though brief, the BJP has presented an outline of a plan that it believes can win the confidence of what will soon be the world's most populous country, where many young people have grown up under NDA rule, and where first-generation needs will often clash with second- and third-generation aspirations. It is now up to the Opposition to present its alternative vision.
Continue reading with HT Premium Subscription
Daily E Paper I Premium Articles I Brunch E Magazine I Daily Infographics