GATE 2023 Admit Card Live: GATE hall tickets out gate.iitk.ac.in, link here
Feb 21, 2023 03:54 PM IST
GATE 2023 admit card has been released on gate.iitk.ac.in. Direct link and other details inside.
GATE 2023 Admit Card Live Updates: Indian Institute of Technology (IIT) Kanpur has released Graduate Aptitude Test in Engineering (GATE) 2023 admit card today, January 9, 2023. Candidates can download GATE admit card from gate.iitk.ac.in.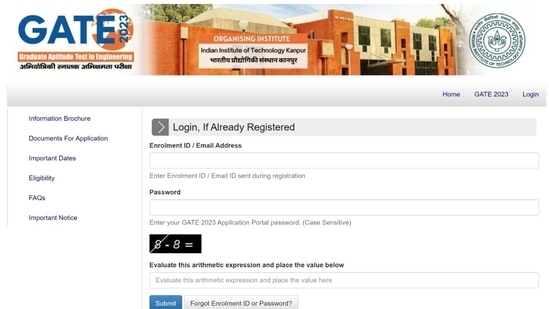 "Candidates can now download the Admit Card from the application portal," reads the notification.
The GATE 2023 entrance exam will be held on February 4, 5, 11, and 12, 2023, with the release of the answer key on February 21. Prior to that, on February 15, the candidate's responses will be released. From February 22 to February 25, candidates can raise their objections.
The entrance exam results will be released on March 16, 2023. The GATE 2023 scorecard will be available for download from March 21.
Follow all the updates here:
Feb 21, 2023 03:54 PM IST

GATE 2023: Answer key releasing at 4 pm

"Answer key will be available after 4:00 pm by logging in their account", reads the official website.

Jan 09, 2023 07:16 PM IST

GATE 2023: Exam will be held in two shifts

The GATE 2023 first shift of the exam will be held between 9:30 am and 12:30 pm and the afternoon shift will be conducted between 2:30 pm and 5:30 pm.

Jan 09, 2023 05:10 PM IST

GATE 2023 admit card: Know how to download admit card

Go to the official website of GATE at gate.iitk.ac.in.

Click on GATE 2023 Admit Card link available on the home page.

Enter your login details and submit.

Your admit card will be displayed on the screen.

Check the admit card and download it.

Jan 09, 2023 03:40 PM IST

GATE 2023 admit card direct link

To download GATE 2023 admit card, click here.

Jan 09, 2023 02:36 PM IST

GATE 2023 admit card: Where to check

To download GATE 2023 admit card, candidates need to login to the official website for the exam, gate.iitk.ac.in.

Jan 09, 2023 01:45 PM IST

GATE 2023 admit card: Items allowed inside exam hall

GATE 2023 admit card printout
Pen
Pencil
Water in transparent bottle
Pocket-sized hand sanitizer
Photo ID.

Jan 09, 2023 01:13 PM IST

GATE 2023 admit card: Use of scribble pad

During GATE exam, a scribble pad will be provided to each candidate.Candidates must write their name and registration number on it. The candidates can possess only one scribble pad at any point of time. If the scribble pad gets filled, they can request for another, after returning the first one to the invigilator. At the end of the examination, the remaining scribble pad must also be returned to the invigilator

Jan 09, 2023 12:21 PM IST

Error in GATE 2023 admit card? Here's what to do

If there is any error in your GATE 2023 admit card, immediately contact the exam conducting authorities and inform it. Click here for contact details.

Jan 09, 2023 11:58 AM IST

Details mentioned on GATE 2023 admit card

Details mentioned on GATE 2023 admit card are:

Candidate's name.
Registration number.
Paper code, name.
Exam date and paper timings.
Exam centre code and address.
Candidate's photo and signature.
Barcode.
Other details.

Jan 09, 2023 11:53 AM IST

GATE 2023 admit cards released

GATE 2023 admit card or hall ticket has been released. Download it by logging in to app.gate.iitk.ac.in or use the link given above.

Jan 09, 2023 11:36 AM IST

GATE 2023 admit card: Use of calculators

During GATE 2023, a virtual scientific calculator will be available on the computer screen. Personal calculators or any other electronic devices are not allowed. Candidates can not bring any charts/tables/papers/bookssheets/ heavy ornaments inside the exan hall.

Jan 09, 2023 11:25 AM IST

GATE 2023 admit card: Reporting time

Candidates must report to the GATE examination venue at least 90 minutes before the scheduled time for beginning of examination. Candidates will not be allowed to login 30 minutes after the start of the exam.

Jan 09, 2023 11:20 AM IST

How to download GATE admit card 2023

Go to gate.iitk.ac.in.
Login to your account.
Read the instructions and click on the given tab to sign.
Admit card will be downloaded.

Jan 09, 2023 11:17 AM IST

GATE 2023 admit card will be invalid if…

IIT Kanpur said that GATE 2023 admit card will be considered valid only if both the photograph and signature are clear. To ensure this, candidates must print their admit cards on A4 sized paper using laser printer, preferably in colour.

Jan 09, 2023 11:16 AM IST

GATE 2023 admit card: Instructions to candidates

A printed copy of the Admit Card must be presented for verification along with the original (not photocopy or scanned copy) valid photo identification proof on the exam day.

"In case of poor quality of photo on the ID proof, candidate MUST bring an additional recent valid photo ID (Valid Photo IDs: Passport, PAN Card, Voter ID, Aadhaar Card, Driving License)," as per an official statement.

Jan 09, 2023 11:09 AM IST

GATE 2023 admit card direct link

Here's the direct link to download GATE admit card:

Jan 09, 2023 11:00 AM IST

GATE 2023 admit card released

IIT Kanpur has released admit cards for GATE 2023 on gate.iitk.ac.in.

Jan 09, 2023 10:56 AM IST

GATE 2023 admit card release delayed

GATE 2023 admit card was supposed to be out on January 3 but it has been delayed. "Due to operational reasons Admit Card Download is delayed, and now it will be enabled on 9th January 2023", reads a notice on gate.iitk.ac.in.

Jan 09, 2023 10:21 AM IST

GATE 2023 admit card: Login credentials

Candidates are advised to keep their registration number and password ready. These information will be required to download the GATE 2023 admit card.

Jan 09, 2023 09:41 AM IST

GATE 2023 admit card: Check detailed exam schedule

To check detailed schedule of GATE 2023, click here.

Jan 09, 2023 09:38 AM IST

GATE 2023 admit card: Exam dates

GATE 2023 will be conducted on February 4, 5, 11 and 12. The schedule, mentioning paper timings, is available on the official website, gate.iitk.ac.in.

Jan 09, 2023 08:52 AM IST

GATE 2023 admit card: How to download

Go to gate.iitk.ac.in
On the home page, open the login link to download admit card.
Enter the asked details and submit.
View and download your GATE exam admit card.

Jan 09, 2023 07:49 AM IST

GATE 2023 admit card release date was postponed

Originally, GATE 2023 admit card was scheduled to be out on January 3 but IIT Kanpur had postponed it to January 9 due to "operational reasons".

Jan 09, 2023 07:42 AM IST

GATE 2023 admit card releasing today

IIT Kanpur will issue GATE 2023 admit card today, January 9, 2023.

Jan 08, 2023 09:27 PM IST

GAYE 2023: Where to download admit card

Candidates who have applied for the GATE 2023 exam can download the hall tickets from the official website at gate.iitk.ac.in

Jan 08, 2023 08:01 PM IST

GATE 2023: Admit card releasing on Jan 9

GATE 2023 admit card will be released on January 9 at gate.iitk.ac.in.

Jan 08, 2023 07:16 PM IST

GATE 2023 admit card: Steps to download the admit card

Go to gate.iitk.ac.in.

On the home page, open the GATE admit card link.

Enter the asked details and log in.

View and download the admit card.

Jan 08, 2023 06:19 PM IST

GATE 2023 examination schedule

The GATE 2023 exam is scheduled for February 4, 5, 11, and 12, 2023.

Jan 08, 2023 05:59 PM IST

GATE 2023: Direct link to take mock test

Jan 08, 2023 05:50 PM IST

GATE 2023: Result on March 16

GATE 2023 results will be released on March 16 and the scorecard will be available for download from March 21.

Jan 08, 2023 05:49 PM IST

GATE 2023: Entrance examination

Graduate Aptitude Test in Engineering (GATE) is a national-level exam that primarily tests the comprehensive understanding of various undergraduate subjects in Engineering/ Technology/ Architecture/ Science/ Commerce/ Arts.

Jan 08, 2023 05:33 PM IST

GATE 2023 exam dates: February 4, 5, 11 and 12, 2023.

GATE 2023 exam timing: From 9.30 am to 12.30 pm and 2.30 pm to 5.30 pm.

Jan 08, 2023 05:26 PM IST

GATE 2023: Admit card releasing tomorrow

Previously, the Gate 2023 admit card's release date was set for January 3. However, the admit card download is delayed due to operational issues.

Jan 08, 2023 05:22 PM IST

GATE 2023: Know how to download the admit card

Go to gate.iitk.ac.in.

On the home page, open the GATE admit card link.

Enter the asked details and login.

View and download the admit card

Jan 08, 2023 05:12 PM IST

GATE 2023: Admit card releasing tomorrow

IIT Kanpur will issue GATE 2023 admit card tomorrow, January 3, 2023 at gate.iitk.ac.in.

Topics

Story Saved