Live
NEET Result 2022 Live Updates: Answer key of NEET UG awaited at neet.nta.nic.in
Aug 11, 2022 04:22 PM IST
NEET UG 2022 Result Live Updates: NEET answer key and results awaited on neet.nta.nic.in. Follow all the latest updates here.
NEET UG 2022 Answer Key, Result Live Updates: National Testing Agency (NTA) will publish provisional answer key of NEET 2022 soon. The entrance exam was conducted on July 17 at exam centres across India and overseas. NEET answer key will be published on neet.nta.nic.in and nta.ac.in.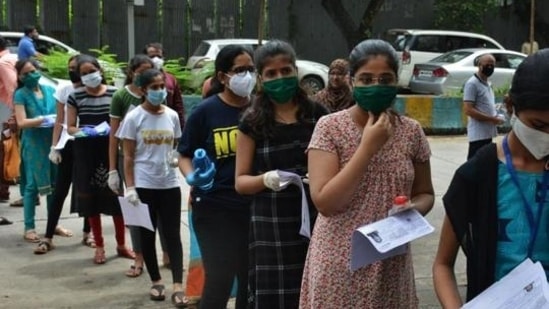 After NEET answer key is released, candidates can raise objections, if any. NTA will review their feedback and prepare the final answer key and results based on it.
NEET question papers and OMR sheets will be available along with answer keys.
Along with NEET results, NTA will announce category-wise cut-off marks and all India ranks.
Follow all the updates here:
Aug 11, 2022 04:18 PM IST

Can candidates apply for re-checking of NEET result?

No. There is no provision for candidates to apply for re-checking of NEET result. However, it can be challenged in a court of law.

Aug 11, 2022 02:26 PM IST

NEET answer key 2022: How to download

Visit the official website of NTA, neet.nta.nic.in.

Click on NEET Answer Key 2022 link on the home page.

Enter the login details and click submit.

Download the answer key and calculate score.

Aug 11, 2022 01:42 PM IST

NEET result 2022: Top medical colleges in your state

Aug 11, 2022 12:58 PM IST

NEET 2022: Courses other than MBBS you can take

Candidates who qualify in NEET can take these courses other than MBBS:

BDS
AYUSH courses
Veterinary courses
BSc Nursing, Life Sciences

Aug 11, 2022 11:28 AM IST

NEET result: Cut-off marks dropped last year

All the categories saw a drop in NEET cut-off scores in 2021. Click here to check.

Aug 11, 2022 10:16 AM IST

What after NEET answer key is released

After NEET answer key is released, candidates can use it to calculate their marks. In case of any doubt or error on the answer key, they can raise objections by paying a fee. After this, the final answer key will be published on neet.nta.nic.in.

Aug 11, 2022 08:29 AM IST

NEET PG counselling dates announced

Aug 11, 2022 08:28 AM IST

NEET UG 2022 answer key awaited

National Testing Agency is yet to release provisional answer key of NEET UG 2022 on neet.nta.nic.in.

Aug 10, 2022 08:31 PM IST

NEET Answer Key 2022: Steps to download

Visit the official site of NTA NEET on neet.nta.nic.in.

Click on NEET Answer Key 2022 link available on the home page.

Enter the login details and click on submit.

Download the answer key and keep a hard copy of the same for further need.

Aug 10, 2022 08:15 PM IST

NEET Result 2022: No provision for re-checking/ re-evaluation

There is no provision for re-checking/re-evaluation of the answer sheets. This is because of the following reasons:

i. The OMRs are machine gradable and are being evaluated through specific software impartial to all.

ii. The candidates are given an opportunity to make the representation on the OMR gradation of their OMR sheets and also given an opportunity to challenge the answer key in case of any doubt.

Aug 10, 2022 07:59 PM IST

The National Testing Agency will evaluate the Answer Sheets using standard procedure and the result will be displayed on the website: https://neet.nta.nic.in// and thereafter candidates may download their respective Score Cards.

Aug 10, 2022 07:25 PM IST

NEET Answer Key 2022: Objection link to be activated

NEET Answer Key 2022 will be released soon. The objection link will also be activated along with the answer key link. Candidates can raise objections against the answer key through the direct link that will be available on the official website.

Aug 10, 2022 06:59 PM IST

NEET Result 2022: Cancellation of result

The result of NEET(UG)-2022 of the candidates who indulge in Unfair means Practices will be cancelled and will not be declared.

Aug 10, 2022 06:11 PM IST

NEET Result: AIR to release along with result

NEET Result will be announced in due course of time. All India Rank will also release along with the result.

Aug 10, 2022 05:42 PM IST

NTA NEET result: Seats available under different quotas

Admissions to all seats of Undergraduate Medical / Dental Courses will be done through NEET (UG) - 2022. The following are the seats available under different quotas:

• All India Quota Seats

• State Government Quota Seats

• Central Institutions/Universities/Deemed Universities

• State/Management/NRI Quota Seats in Private Medical / Dental Colleges or any

Private University

• Central Pool Quota Seats

• All seats including NRI Quota as well as Management Quota, are in private

unaided/aided minority / non-minority medical colleges.

• AIIMS Institutes across India/JIPMER.

• The Counselling for successful candidates for Seats under 15% All India Quota and 100% including 85% State quota seats of Central Institutions (ABVIMS & RML Hospital/VMMC & Safdarjung Hospital/ESIC)/ Central Universities (including DU/ BHU /AMU)/ AIIMS/ JIPMER and Deemed Universities, will be conducted by the MCC/DGHS for Undergraduate Medical / Dental Courses. MCC only does the registration for AFMC and forwards the data of registered Candidates to AFMC Authorities for the admission process. DU/BHU and other Universities may use the score for any other relevant courses being offered by them.

Aug 10, 2022 05:12 PM IST

NEET result 2022: After provisional answer key

NEET result 2022 will be announced after National Testing Agency has released the provisional answer key. The provisional answer key is expected to be released soon and will be available on neet.nta.nic.in.

Aug 10, 2022 04:27 PM IST

NEET Exam: More than 18 lakh students appear

NEET exam was conducted on July 17, 2022. As per reports more than 18 lakh students have appeared for the examination this year.

Aug 10, 2022 04:03 PM IST

NEET Answer Key 2022: How to download

Visit the official site of NTA NEET on neet.nta.nic.in.

Click on NEET Answer Key 2022 link available on the home page.

Enter the login details and click on submit.

Download the answer key and keep a hard copy of the same for further need.

Aug 10, 2022 03:46 PM IST

NEET 2022 result: What will be mentioned on scorecard

On NEET scorecards, candidates' name, marks in each subject, total score, percentile score, all India rank, etc. will be mentioned.

Aug 10, 2022 03:23 PM IST

NEET 2022 answer key release date

As of now, there is no news about release date of NEET answer key or result.

Aug 10, 2022 03:04 PM IST

NEET answer key 2022: How to raise objections

After NEET answer key is released, a link to challenge answer keys will be activated on neet.nta.nic.in. Candidates can use it to raise objections by paying a fee for each question.

Aug 10, 2022 02:47 PM IST

NEET 2022 answer key: How to calculate marks

Total marks in NEET = (4 x number of correct answers) - (number of incorrect answers)

Aug 10, 2022 02:06 PM IST

What is NTA's responsibility in NEET UG

NTA's responsibility in NEET UG is to conduct the exam, declare results and send merit lists to counselling authorities. It has no part in the medical admission process.

Aug 10, 2022 02:05 PM IST

NEET state quota counselling websites

Rajasthan: Website will be announced soon

Punjab: bfuhs.ac.in

Tamil Nadu: tnmedicalselection.net

Tripura: dme.tripura.gov.in

Uttarakhand: hnbumu.ac.in

Uttar Pradesh: upneet.gov.in

West Bengal: wbmcc.nic.in

Aug 10, 2022 02:04 PM IST

NEET 2022 state counselling websites

Maharashtra: cetcell.mahacet.org

Meghalaya: meghealth.gov.in

Manipur: manipurhealthdirectorate.mn.gov.in

Mizoram: mc.mizoram.gov.in

Nagaland: dtenagaland.org.in

Odisha: ojee.nic.in

Puducherry: centacpuducherry.in

Aug 10, 2022 01:48 PM IST

NEET Result 2022: State quota counselling websites

Gujarat: medadmgujarat.org

Haryana: dmer.haryana.gov.in

Jammu and Kashmir: jkbopee.gov.in

Jharkhand: jceceb.jharkhand.gov.in

Kerala: cee.kerala.gov.in

Karnataka: kea.kar.nic.in

Madhya Pradesh: dme.mponline.gov.in

Aug 10, 2022 01:33 PM IST

NEET Result 2022: State quota counselling websites

Andhra Pradesh: ntruhs.ap.nic.in

Assam: dme.assam.gov.in

Arunachal Pradesh: apdhte.nic.in

Bihar: bceceboard.bihar.gov.in

Chandigarh: gmch.gov.in

Goa: dte.goa.gov.in

Chhattisgarh: cgdme.in

Aug 10, 2022 01:24 PM IST

NEET result 2022: Past 2 years' cut-off

Want to know your qualification chances based on past cut-off trends? Click here.

It is important to note that this year's cut-offs will be different.

Aug 10, 2022 01:22 PM IST

NEET result 2022: Important websites for AIQ counselling

Medical Counselling Committee (MCC): mcc.nic.in

AYUSH Admissions Central Counseling Committee (AACCC): aaccc.gov.in

Veterinary Council of India (VCI): vci.dadf.gov.in/counseling

Aug 10, 2022 01:16 PM IST

NEET answer key 2022: How to download it when released

Go to neet.nta.nic.in.
On the home page, go to candidate activity tab and click on the answer key link.
Enter your application number and date of birth.
Login and check NEET answer key.

Aug 10, 2022 12:54 PM IST

What happens after NEET exam

These are the events that take place after NEET exam:

Release of provisional answer key with question papers and OMR responses.
Window for candidates to raise objections.
Review of objections by NTA.
Release of final answer key.
Declaration of NEET UG result, cut-off and merit list.

Aug 10, 2022 12:41 PM IST

Where to get NEET 2022 answer key, result

When published, candidates can get NEET 2022 answer key and results on neet.nta.nic.in and nta.ac.in.

Aug 10, 2022 12:40 PM IST

NEET Result 2022, answer key awaited

NEET 2022 was conducted on July 17 and NTA is yet to publish provisional answer key of the undergraduate medical entrance exam.

Topics

Story Saved