DU admission 2018: Day 2 smoother, more seats filled
Hindustan Times, New Delhi |
Chandana Krishnegowda and A Mariyam Alavi
Jun 23, 2018 03:21 PM IST
DU admission 2018: Colleges and students said the process was faster and better than the first day.
The second day of admissions went a lot more smoothly on Wednesday with colleges admitting around 3,000 students by 6 pm. This was higher than the total admissions done under the first list last year over three days.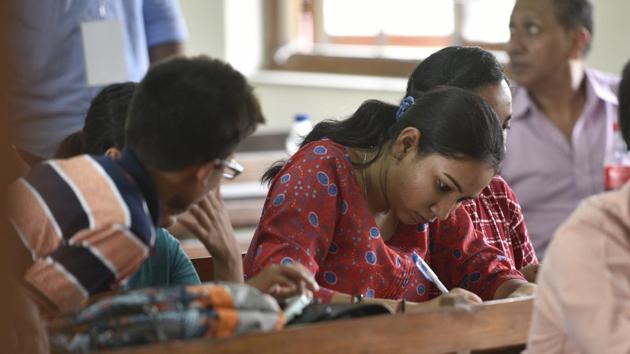 Colleges and students said the process was faster and better than the first day. At Sri Guru Teg Bahadur Khalsa College, the principal said they had filled 50 seats on day one, but on the second day they had processed applications of 162 students. A total over 200 seats of the available 820 have been taken at the college.
Pratyusha, who had come from Salem looking for a seat in BCom (hons) at Shri Ram College of Commerce, said Tuesday was "chaotic". On Wednesday when she had come to apply for hostel, she said it was a lot smoother.
"It was a little slow today as well, with some intermittent problems. But it was definitely better than the first day," said Swati Pal, principal at Janki Devi Memorial College, where admissions to around 100 of the available 990 seats were completed on Wednesday.
A few parents and students said some hiccups still remained.
"The procedure is extremely long and disorganised. Parents crowd in and even fill in applications for their children, adding to the chaos. It would have been easier with better crowd management techniques," said Abhinav, who was at Ramjas College to get admitted to the BA programme.
The first day of admissions on Tuesday had been stalled because of technical glitches. University officials had said with over 50,000 students logging in to the system at the same time in the morning, the servers had slowed down.
MK Pandit, a member of the admissions committee at DU, said they had fixed it by 1 pm and the admissions picked up.