DU admission 2018: Many hopes riding on the second cutoff list
Hindustan Times, New Delhi |
A Mariyam Alavi and Heena Kausar
Jun 23, 2018 03:22 PM IST
DU admission 2018: Many off­campus colleges will bring out their second list for some courses. However, the drop in cutoff percentage is expected to be minimal.
Even as the admissions under the first list draw to a close on Thursday at Delhi University, students who may not have made the cut the first time around, have the second list to look forward to on June 25.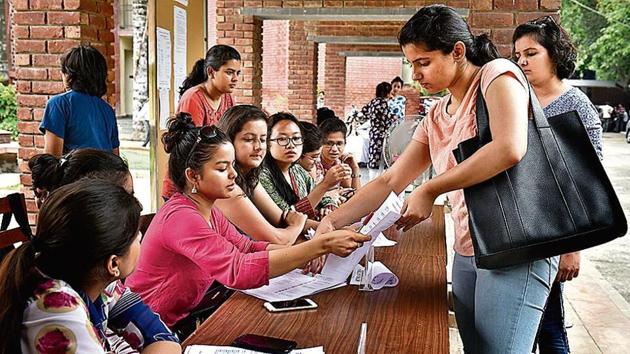 This year, DU approved more applications on the first two days of admission than it ever did over three days last year, and some prominent colleges have said that they may not be issuing a second list for certain subjects.
Despite this, students will have other options, particularly in off-campus colleges, in the second list, but the cutoff percentage is not expected to drop by more than one percentage point.
At some off-campus colleges like Laxmibai, admission to less than 10% of the seats has been approved and the principal expects a "definite" second list for all courses.
At Kalindi College, only 111 admissions have been done. The college has around 1,000 seats. "We are likely to issue a second list for most of the courses," said a member of college admission committee.
Delhi College of Arts and Commerce, which had set the highest cutoff for Journalism (H) this year, is expected to release a second list for all courses, except for Political Science (H) for general category students.
"First list is usually a little on the higher side. But even in the second list, the cutoff will not drop by more than 2 marks (0.5 percentage points)," said Rajeev Chopra, the principal.
Those looking for a South Campus college may also have some options at Kamala Nehru College, according to principal Kalpana Bhakuni.
She said that while a second list is unlikely for BA programme and B.Com, they will be announcing a second list for almost all other courses. "The dip will be only by a conservative margin — around 0.25 to 0.5, as the first cutoffs were "realistic".
Courses like Geography (H), History (H), Sociology (H), Political Science (H), and Psychology (H), is expected to get filled in the second list, and a third list seems unlikely for these subjects ," said Bhakuni.
Some North Campus colleges such as Indraprastha College and Hansraj college are also expected to announce a second list for all courses.
IP College has also approved admissions to only about 75 seats over two days and the college has around 1,105 seats in total, according to the principal, while at Hansraj only 119 admissions have been approved against a total of 1,100 seats.
"We will issue second list for all courses with dip of 0.25 to 1 percentage points," said Rama, principal of Hans Raj.
Even if the seats get filled in the first list, with possible withdrawals and transfers in the second list, the courses may reopen in the third list, as explained by the principal of Madhu Pruthi, the principal of Keshav Mahavidyala.
"We have around 500 total seats. In the first list students usually secure a seat. But after second and third list, students do withdraw admissions and that leads to opening of admissions in some courses," she said.