How do you build a rep as a new university? Tips from early movers
May 08, 2019 07:47 PM IST
In an increasingly crowded market, communication and collaboration are key, as are strong ties with the student and industry communities.
As India's higher education scene evolves — with cluster universities, private universities and more specialised institutes, new challenges are emerging too.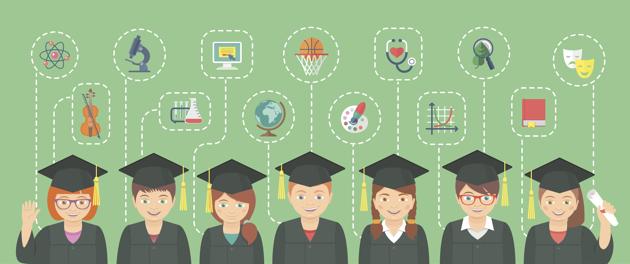 For some, it's a simple perception problem in the early years. For others, it's the fact that the best lecturers won't visit because the institute is not situated in a major city, or isn't near an airport. For others, it is a struggle to improve placement profiles and packages.
However, with proactive steps from the institute and students that gap can be bridged, feels Fatima Agarkar, educationist and co-founder at education consultancy KA Edu Associates, says communication is key, and is something many new institutes get wrong in the early stages.
"I can't stress enough how important it is for a new institute to have a clear communication strategy," Agarkar adds. "They also need to have a strong online presence and reach out to aspiring students on what the place has to offer, what kind of innovative work is being done there and what their career prospects would be. Everything starts there."
While communication and an online presence may seem self-evident, or even tangential, it's especially crucial in an increasingly crowded ecosystem where, according to central government data, a total of 150 new universities were set up between 2015 and 2018.
GETTING IT RIGHT
Collaborate, communicate and capitalise on your strengths—those are essentially the three things that successful young universities and institutes have got right.
The Maharashtra National Law University in Mumbai, which opened in 2015, capitalised on their location and the strengths it afforded them, to build relationships with the industry. As their first batch is set to graduate in 2020, vice-chancellor Dilip Ukey is hopeful of a robust placements because it's something they have been working towards for years.
"We have established collaborations with the Bombay Stock Exchange and are contemplating a memorandum of understanding with the Securities and Exchange Board of India. Apart from that we also have tied up with the National Human Rights Commission," Ukey says.
Such collaborations are crucial for new institutes to flourish, Krish Lakshmikanth, CEO of recruitment firm Head Hunters India, believes.
"You cannot just call people in when it is time for them to offer your students jobs. That relationship has to start early on in the course timeline, with workshops, seminars, lectures and partnerships, so that they get to see first-hand the kind of talent you have in the classroom," Lakshmikanth says.
Examples of institutes that have done this well, he says, are St Xavier's University, Bhubaneswar, and the Indian Institute of Management, Ranchi (IIM-R).
"The location of these institutes could have proven to be a disadvantage," Lakshmikanth says. But they both aggressively organised guest lecture sessions and events in which industry players could participate — and the student community could experience what was on offer. That got the ball rolling."
Another aspect that helped IIM Ranchi was that they offered a specialisation few others did — in human resource management — and then worked to become thought leaders in that field.
"We organise human resource conclaves that serve as a platform for professionals in the field. This enables an atmosphere where the information about the work at the institute gets spread across the industry," says Rohit Kumar, area chair-strategic management at IIM-R.
"Exciting news! Hindustan Times is now on WhatsApp Channels
Subscribe today by clicking the link and stay updated with the latest news!"
Click here!