Students may have to face aptitude test for admission to DU from next yr
Hindustan Times, New Delhi |
A Mariyam Alavi
Jan 20, 2018 11:26 PM IST
If the proposal is implemented, the aptitude test could apply to all undergraduate programmes
Delhi University is mulling over introducing an aptitude test that will act as a filtration system for undergraduate admissions from academic year 2019-20. If implemented, students will have to pass the test to become eligible for admission on the basis of cut-offs set by various colleges.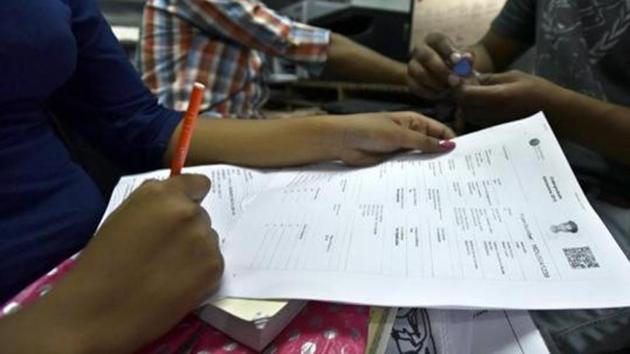 Five members of a sub-committee looking into online testing for admissions met on Friday to discuss the proposal. One of them, Rajdhani College associate professor (mathematics) Pankaj Garg, said the proposed aptitude test would act as a "filtration system" for picking eligible students from different boards with varied moderation policies and difficulty levels.
If implemented, it could apply to all undergraduate programmes, he added.
According to Garg, the committee will meet again on Thursday for further deliberations.
"Committee members said admissions should continue to happen on the basis of Class 12 results, but with some possible filtration. No decision has been taken yet. Whatever decision is taken, it will become effective only from the 2019-20 academic year because we do not want to make policy changes in a hurry. As such a move can have long-term implications, it must be executed after a lot of thought. Students should also be given ample notice," the academician said.
Garg said a proposal to conduct undergraduate admissions on the basis of an entrance test was unanimously rejected.
Sub-committee chairperson Anula Maurya refused to elaborate on the meeting. "We are still looking at modalities, and no final decision has been taken yet," said Maurya, who is the principal of Kalindi College.
Once the sub-committee arrives at a decision on the matter, their recommendations will be sent to the larger admissions committee for deliberations. If the proposal gets their green signal, it will be forwarded to the academic council and then the executive council for further approval.
If implemented, three online tests – one each for science, commerce and arts students – may be held as part of the filtration process.
The proposal received mixed reactions from students and academicians in Delhi University colleges. While most principals refused to comment, one said on the condition of anonymity that a filtration system may not be a bad idea. "There must be some logic to a two-step process. It will be good if they can standardise the quality of intake," he added.
Ritwik Pawar, a third-year computer science student at St Stephen's, also said that an aptitude test capable of evaluating one's mental ability and reasoning may serve a worthy purpose.
Others, however, were not so sure. A teacher said that such a complicated process may work for professional courses, but not undergraduate admissions. The university had received 2.2 lakh applications for around 56,000 undergraduate seats last year.
Inderjeet Jaggi, a second-year BA student at Dyal Singh College, claimed that an added layer of screening would only discourage students from performing well in board exams.
Tanya Borah, a Class 11 student who hopes to land a seat in St Stephen's College, agreed. "They keep increasing the number of exams we have to take. This will only amount to additional baggage on our heads," she said.
Officials involved with the admission process said they will deliberate on the recommendations after receiving them.