Want to work and study? Delhi University has an option for girls
Hindustan Times, New Delhi |
A Mariyam Alavi
Jun 23, 2018 04:02 PM IST
DU admission 2018: Girls who cannot attend regular college have an option of studying from Non-Collegiate Women's Education Board (NCWEB), provided they are residents of NCT Delhi.
Female students, who are unable to attend full-time regular colleges due to some reason or won't be able to clear the sky-high cutoffs at regular DU colleges, have an option of studying from Non-Collegiate Women's Education Board (NCWEB), provided they are residents of NCT Delhi.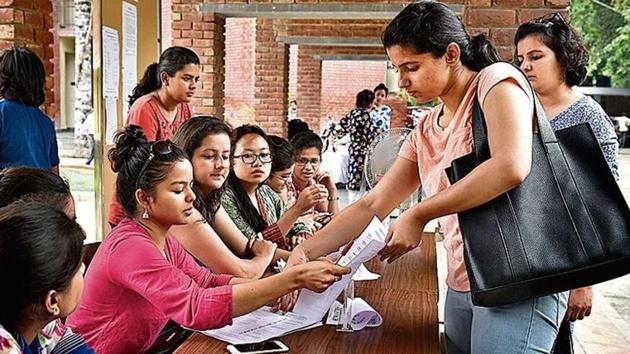 The NCWEB is one of the 'non-formal' education centres at the Delhi University, where female students who are residents of NCT Delhi region can get admission into either BA or B.Com programmes, or to one of their 11 postgraduate programmes.
Currently, there are 12,168 undergraduate NCWEB seats up for grabs at 26 of its centres. There are 284 BA and 184 BCom seats at each centre. There are 112 seats available for each of the postgraduate programmes, though teaching is provided only for eight of the 11 postgraduate programmes. No classes are held for MA Urdu, MA Bengali or MA Philosophy.
"Our courses are very economical. Students can complete the courses, both undergraduate and postgraduate, within ₹10,000," said Anju Gupta, director of NCWEB.
The admission to the undergraduate programmes are based on cut-off percentage, but these are usually lower than regular colleges. Last year, in the first list, the cutoffs for BA programme ranged from 76 to 88 and it was between 84 and 90 for B.Com. Hansraj College and Miranda House had the highest cutoffs.
Though the cutoffs are slightly lower than the regular colleges, according to the director of NCWEB, many students also choose the course voluntarily.
"About 50% of the students who apply, are those who are unable to clear the cut-off at regular colleges. However, the rest would have already made up their mind about what they want to do during the week. In fact, we had a number of applicants who had a best four score of over 90%... The gold medallist for BA programme in 2014 was also from NCWEB," said Gupta.
The students attend classes just once a week at the centres, either on a Saturday or Sunday, assigned as per the cutoffs, thereby giving them greater flexibility. Gupta said that many of the students use this time to prepare for other competitive exams, such as the civil services, chartered accountancy, or the company secretary exams, while some others take up jobs during the time.
However, students cannot be enrolled in any other full-time degree, and are also expected to give an undertaking that they would attend at least 66 %of the classes each year. There are 50 classes every year.
"However, if the students bring a letter from their employees that they cannot attend classes on certain days, then we may give some relaxation. This is usually for Saturday centres," said Gupta.