Women's Day: Why aren't we seeing many women in MBA classrooms?
Mar 08, 2017 06:38 PM IST
Share of women in MBA classrooms remains below parity with men at 37%, though they are achieving parity in master's courses in marketing, accounting and management, says GMAC survey
Lack of finances usually stops a woman from applying to a business school. Ambition to earn money and get a top job drives her decision to go for a master's in marketing, accounting or management. There are a number of reasons why women are underrepresented in MBA classrooms, reveals a white paper on lack of gender parity in MBA programmes, What Women Want: A Blueprint for Change in Business Education, by the Graduate Management Admission Council (GMAC).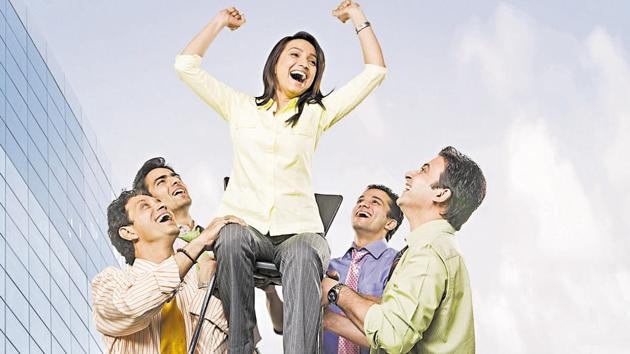 The share of women in MBA classrooms remains well below parity with men at 37%, though the ladies are achieving parity (52%) in master's programmes in marketing, accounting and management. Numbers of such programmes have also grown in recent years. Despite greater shares of women choosing non-MBA master's programmes over MBA programmes, data shows that women hold the MBA degree in higher regard than men, and view the degree as a passport to wider career advancement.
Stay tuned with breaking news on HT Channel on Facebook.
Join Now
The paper explores challenges women face in the business school application process and also gets insights on motivations of men and women to pursue graduate business degrees. There's a perceptible difference between Western women and others from emerging economies like China and India when it comes to motivations and approaches to applications (to B-schools). When compared to men, Western women differ considerably from males but in India and China their motivational behaviours closely resemble those of male applicants.
Women are early planners, likely to chalk out their graduate management education plan during their undergraduate years. They are also more pragmatic and focused on outcomes in their approach to pursuing graduate business education. Schools are important, especially those offering flexible programme formats or better job opportunities. Western women are also more likely than men to be motivated by the desire to advance more quickly and earn more money.
Money is a major issue. About 29% of female respondents say finance is on top of their minds when they think about graduate business school. Lack of money prevents many from pursuing a business degree and when they're applying for finance programmes most women look for scholarships and financial aid. Compared to this, 33% males say they usually delay acceptance because they are waiting for responses from multiple B-schools. US seems to have the widest gender gap. More than a third (38%) of female survey respondents cite financial reasons as their number one reason for not yet accepting their admissions offer compared to 20% of male respondents.
Interestingly getting the money to pay for schools is a bigger challenge for men than for women in both India (8% Indian women versus14% Indian men) and China (9% Chinese women versus 11% Chinese men).
The findings of the paper are based on insights collected from GMAC's Global Graduate Management Education Candidate Segmentation Study conducted in 2016 in partnership with IPSOS, a global market research firm. The survey sample included 5,900 female and male applicants representing 15 countries worldwide.
The paper clearly reveals women are distinct from men in what they are seeking from their business education experience and their behaviours differ between countries and behaviour types, Sangeet Chowfla, president and CEO of GMAC says. The paper's data and insights, he suggests, can help B-schools develop even bolder strategies for increasing the number of women in their classrooms and achieve the gender parity seen in other sectors of graduate education.