'BJP cadre hasn't accepted me...': Atanasio Monserrate after winning Panaji
Mar 10, 2022 01:18 PM IST
2022 Goa Assembly election: The ruling BJP is set to return to power in the coastal state, but will need some help from local outfits like the Goa Forward Party or the MGP.
BJP leader Atanasio 'Babush' Monserrate secured an emphatic win from the Panaji constituency in the 2022 Goa Assembly election. Monserrate beat the Congress' Elvis Gomes and former chief minister Manohar Parrikar's son, Utpal, who walked away from the party his father represented because they would not give him the Panaji ticket. An upset Utpal Parrikar then declared he would contest independently, but that has not turned out well.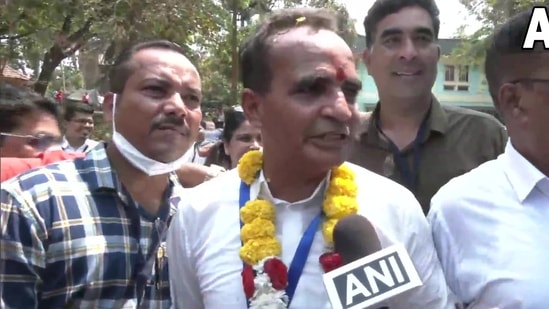 Full coverage: 2022 Assembly election
In the moment of his big win, however, Monserrate trained his guns on his party, claiming the BJP did not support him in his battle with Utpal Parrikar.
"I fought the unofficial candidate of the BJP (Utpal Parrikar) as well as the Congress. It is because of the support of the few of the workers and other supporters, that is who we have managed to retain the seat," he declared Thursday afternoon.
"I am telling you... I feel the BJP cadre has not accepted me in the party. If he (Utpal) could get so many votes, it means the cadre shifted their votes to him. I can see only that. The BJP leadership here did not manage to do damage control," Monserrate said.
2022 Goa Assembly election: Everything you want to know
A former Congress leader (and no stranger to controversial comments) Monserrate was a fierce rival of Manohar Parrikar when the ex-chief minister and union minister was alive.
At the time of writing (and according to the Election Commission website) Monserrate polled 6,531 votes to Utpal Parrikar's 5,857.
The Congress' Gomes had 3,062.
"It was touch-and-go. 20 votes here or 50 votes here... that was the difference. So how can you get that difference. I never expected this result. I can tell you with my judgement they played a party. The BJP has not accepted me," Monserrate said in comments unlikely to go down well with senior leaders.
"I have joined BJP two years ago. BJP cadre has not accepted me in the party. The party did nothing from day one," he said.
Monserrate's 'woes' aside, the BJP has defied exit poll predictions in Goa, which is one of five states that voted for a new government in February-March. Goa was expected to deliver a tightly-fought race between the Congress and the BJP.
Initial trends did suggest this but as the day wore on the BJP moved into the lead. They might still not have a majority but will be close enough that support from one of two local parties - MGP or Goa Forward Party - will be enough.
The BJP has already approached the MGP, its former ally, and the local party has indicated its willingness to a post-poll deal, despite being in a deal with Mamata Banerjee's Trinamool.
With input from ANI