Pramod Sawant resigns as Goa CM, no word yet on BJP legislature party leader
Mar 12, 2022 05:14 PM IST
On electing the legislature party leader, Pramod Sawant said the BJP is following the central leadership's procedures.
PANAJI: Goa chief minister Pramod Sawant on Saturday tendered his resignation and was promptly appointed the caretaker chief minister by governor P S Sreedharan Pillai as the new government is expected to take charge next week after the arrival of the Bharatiya Janata Party (BJP) central observers and the election of the BJP legislature party chief.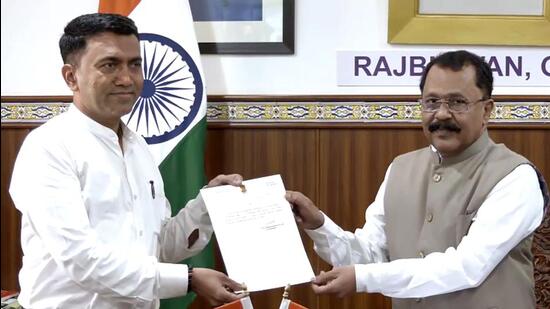 "I have submitted my resignation and the governor has given me a letter appointing me as the caretaker CM till the procedures are completed. After the BJP won the mandate in order to complete other procedures, yesterday we had a cabinet meeting. One resolution was to thank all Goans, for giving us an opportunity to work for 3 years. The second resolution was to dissolve the assembly," Sawant said.
"He (the governor) has accepted the resignation and after accepting it, he appointed me as the caretaker CM, which is till further decisions," Sawant said.
Asked to explain the reason for the delay in electing a leader of the legislature party, Sawant said that they were "following central leadership's procedures."
"The swearing in is scheduled in 4 states. A decision has not been made regarding the arrival of the observers from the central leadership yet. After the decision is taken at the Centre, dates for all states will be finalised and the swearing in will take place in all four states," he added.
"We do not know who is going to come or when. When the central party takes a decision, we will inform you. The observer will conduct a meeting of the legislature party and quickly take the rest of the decisions," he added.
In the polls, the BJP emerged as the single largest party, winning 20 seats. The Maharashtrawadi Gomantak Party (MGP), which fought the Goa elections in alliance with the Trinamool Congress (TMC), won 2 seats. The TMC was completely rejected by the voters.
While the Congress won 11 seats, 2 seats went to the tally of the Aam Aadmi Party (AAP) while independent candidates bagged 3 seats. The Revolutionary Goans Party (RGP) and the Goa Forward Party won 1 seat each.