BJP returns to power in Manipur for second term; Congress gets decimated
Mar 11, 2022 12:43 AM IST
The ruling BJP won 32 of the total 60 assembly seats in Manipur while the opposition Congress just won 5 seats.
GUWAHATI/IMPHAL: Bucking anti-incumbency, the ruling Bharatiya Janata Party (BJP) has retained power in Manipur for a second consecutive term while the Congress, the main opposition party, failed to reach double digits.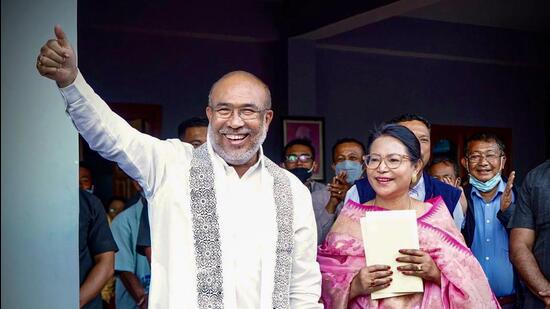 Of the total 60 assembly seats in the state, the BJP won 32 seats—11 more than 2017 when it secured 21 seats. Till 8:45 pm, the party has won 28 seats and was leading in 4. The party secured nearly 38% of the total votes, while the Congress got just 17%. 15 MLAs lost their seats this time and 12 new faces emerged victorious.
In 2017, despite coming second behind the Congress, which won 28 seats, BJP was able to form its first government in the northeastern state with support from National Peoples' Party (NPP), Naga Peoples' Front (NPF) and Lok Janshakti Party (LJP).
"We were very confident from the beginning that we will get majority and form government on our own. I would like to thank the people of Manipur, my constituency and senior BJP leaders for their guidance," chief minister N Biren Singh said in Imphal.
Singh, who secured an easy win from his home seat of Heingang by defeating the Congress's P Saratchandra by a margin of 18,271 votes, is expected to head the next government.
"I don't think NPP will be with us, but NPF will be part of the coalition 'dharma'," Singh said while adding that the BJP's good show was due to Prime Minister Narendra Modi's slogan of 'sabka saath, sabka vikas, sabka vishwas and sabka prayas'.
NPF, which won 5 seats this time, one more than 2017, has also announced support to the BJP and said it will be part of the next government in the state. The party contested from 10 seats this time.
"We were expecting not less than 8 seats, but are happy with the outcome. We are extending support to the BJP and will be part of the next government. Details about portfolio allocation and other such things will be discussed later," Awangbow Newmai, NPF Manipur president, said.
Also Read | Manipur Assembly election result 2022: Complete list of winning candidates
This time the government could have a new constituent, Janata Dal (United), which won 6 of the 38 seats in which it fielded candidates.
The party had last won a seat in Manipur in 2000 and had not even contested in 2017. The JD (U) is part of the BJP-led NDA government at Centre and both parties are part of the government in Bihar.
"We are very happy with the results and thank people of Manipur for their love. We were nobody in the state and had not put up any candidate in 2017. There's no talk yet on extending support to the BJP, but we are open to joining the government," said JD (U) national general secretary Afaque Ahmed Khan.
However, another former BJP ally, National Peoples' Party (NPP), which was part of the BJP-led government, won't be part of the new government. The party, which had won 4 seats in 2017, emerged victorious in 7 seats this time and was leading in one more. Senior party leader Y Joykumar, who was deputy chief minister in the present government, however, lost from the Uripok seat.
The Congress won just 5 seats, 23 seats less than 2017. The party's state unit chief N Loken and former deputy chief minister Gaikhangam lost from the Nambol and Nungba seats respectively.
Also Read | BJP win reflection of people's acceptance, says Manipur chief Sharda Devi
"We are very sad and never expected such a death blow. However, we honour the verdict of the people and will be a responsible opposition. The party will introspect, rectify, reorganise and come back stronger soon," said Congress state unit vice-president Kh Debabrata Singh.
Newly formed Kuki Peoples' Alliance (KPA), which contested from 2 seats, Saikul and Singhat, won both of them. Independent candidates won from 3 seats. Prominent among them was owner of The Sangai Express, Manipur's largest selling daily, Nishikant Sapam, who won from Keisamthong.
A total of 5 women candidates secured wins this time in Manipur. They included Nemcha Kipgen, who retained her Kangpokpi seat, and KPA's Kimneo Haokip Hangshing in Saikul. Super cop Th Brinda, who had contested from Yaiskul on a JD (U) ticket, however, came third on her electoral debut.
"BJP benefitted from poll-related violence and diktats issued by some insurgent groups to voters to vote for the saffron party. In small states like Manipur, which are dependent on central funds, voters usually tend to vote for the party in power in New Delhi," said MC Arun Kumar, professor of anthropology in Manipur University and a political analyst.
"The Congress's rout was due to organisational setbacks. The party's state unit chief defected to BJP just months ahead of polls and a sitting MLA joined the JD(U). The party also suffered because several insurgent groups were opposed to it. This created a fear psychosis in the minds of voters and affected the Congress' campaign as well," he added.