BJP's Rajen Singh sworn in as protem speaker of 12th Manipur Assembly
Mar 13, 2022 03:58 PM IST
Protem speaker Rajen Singh' swearing-in ceremony at the Raj Bhawan in Imphal was attended by caretaker chief minister N Biren Singh and others.
IMPHAL: Newly elected MLA Sorokhaibam Rajen Singh was sworn-in as the protem speaker of the Manipur legislative assembly at the Darbar hall of the Raj Bhavan in Imphal on Sunday.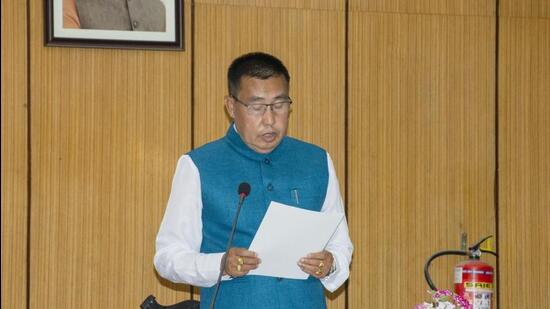 The state governor La Ganesan administered the oath of office and secrecy to Singh who was elected from Lamshang assembly constituency on a Bharatiya Janata Party (BJP) ticket in the recently concluded 12th Manipur assembly elections.
The swearing-in ceremony was attended by caretaker chief minister N Biren Singh, MLAs elect Th Biswajit Singh, Y Khemchand Singh, Govindas Konthoujam, L Sushindro Singh, chief secretary Rajesh Kumar, director general of police (DGP) P Doungel and other top officials of the state.
Rajen Singh will oversee the oath-taking of newly elected Manipur legislative assembly members and his role will cease to exist as soon as a new speaker of the 12th Manipur assembly is elected. The term of the current state assembly is due for expiry on March 19.
After the swearing in ceremony, Rajen Singh, when sought his view on the formation of the new government in the state, said, "The BJP is a well-disciplined Party and all elected members will abide by the decision taken by the party's high command."
MLA-elect Thongam Biswajit Singh from Thongju assembly constituency speaking to media here hinted that oath-taking of newly elected members of Manipur legislative assembly is expected to be held within a day or two.
When asked about the election of the party's legislative leader and the formation of the new government, Biswajit said that all members will adhere to the decision taken by the Party's parliamentary board and things will be clear within a few days.
On March 11, N Biren Singh tendered his resignation as the chief minister to continue as the caretaker chief ministe.
In the recently concluded Manipur polls, the BJP emerged with an absolute majority by bagging 32 seats while the Congress and the Naga People's Front (NPF) secured 5 seats each. The National People's Party (NPP) became the second largest party with 7 seats. The Janata Dal (U) secured 6 seats and Kuki People's Alliance 2 while 3 independents also won the polls.
In the 2017 Manipur elections, the Congress had emerged as the single-largest party after winning 28 of the 60 seats. But the BJP was able to form the government with support from the NPP, NPF and others.