Five women elected to 60-member Manipur assembly. It is a first
Mar 12, 2022 01:34 AM IST
Manipur election: 17 women out of the total of 265 candidates, were in the fray across Manipur's 60 assembly constituencies.
IMPHAL: For the first time in the electoral history of Manipur, five women including three from the Bharatiya Janata Party (BJP) have been elected in the 12th Manipur Legislative Assembly elections, the results of which were declared on Thursday.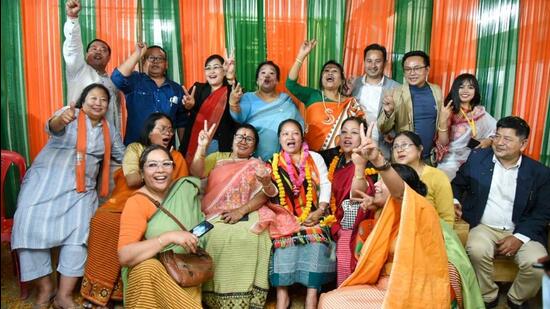 They are former social welfare minister and sitting MLA Nemcha Kipgen (BJP) from Kangpokpi seat, SS Olish (BJP)from Chandel and Soraisam Kebi (BJP)from Naoriya Pakhanglakpa. The other two are I Nalini Devi of National People's Party from Oinam seat and Kimneo Haokip Hangshing of Kuki People's Alliance (KPA) from Saikul seat.
SS Olish also created history by winning her Chandel seat with a huge margin of 27,341 votes over her lone rival Naga People's Front rival Langhu Paulhring Anal.
Sitting MLA Nemcha defeated her rival JD (U) candidate Soshim Gurung by a margin of 5396 votes while KPA candidate Kimneo bagged Saikul seat by a margin of 1249 votes.
Soraisam Kebi Devi bagged her Naoriya Pakhanglakpa seat by a margin of 531 votes while I Nalini Devi secured Oinam seat by margin of 42 votes.
On the historic election of five women candidates in the house of 60 members, 32-year-old Kebi Devi said, "I feel so happy and thank the people of the constituency for the election. After all, women participation in such platforms is the need of the hour to address women related issues."
When asked, she said, "Among the things which I wanted to take up are, addressing women related issues would be one of the priorities."
In the recently concluded election, 17 women out of the total of 265 candidates, were in the fray across Manipur's 60 assembly constituencies.
Though the opposition Congress fielded 4 female candidates and the BJP nominated 3, as many as 43 constituencies did not have a single woman candidate. In the 2017 elections, there were just 11 women candidates out of 266 candidates.
Interestingly, women(10,57,336) voters outnumber men(9,96,627) in the state's total (20,48,169) voters.
Manipur got its first woman legislator, the late Hangmila Shaiza, 18 years after becoming a full-fledged state in 1972. She was the wife of late Yangmasho Shaiza, the fourth chief minister of Manipur in 1990 from Ukhrul Assembly constituency.
Then, late Keisham Apabi Devi, an MLA from Oinam constituency in 5th Manipur assembly and Wahengbam Leima Devi from Naoriya Pakhanglakpa constituency in 2000, who subsequently became the first woman minister in male-dominated political scene.
All combined, the state has had less than 10 women legislators. Kim Gangte was the first woman MP from Manipur in Lok Sabha in 1998.