How to track Manipur Assembly Elections 2022 vote counting live updates on Election Commission of India website
Mar 10, 2022 07:35 AM IST
Manipur Assembly election results 2022: The Biren Singh-led BJP government is set to make a comeback in Manipur, going by the exit poll predictions. The actual results will be available later in the day.
Manipur Assembly election results 2022: The counting of votes for the assembly election in Manipur will begin at 8am. Voting in Manipur was held during the month-long assembly elections along with four other states -- Uttar Pradesh, Punjab, Uttarakhand and Goa. The Election Commission of India (ECI) will declare the poll results later on Thursday, while early trends are expected to start coming in from 9am.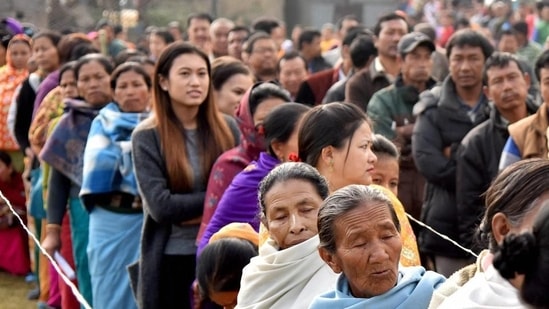 The 60-member Manipur assembly went to polls in two phases on February 28 and March 5, after the ECI revised the previous schedule. The postponement happened in view of multiple requests by the political parties and Christian community in the state.
For Manipur, all the exit polls have predicted that the N Biren Singh-led BJP government will retain power for the second term. Chief minister Biren Singh is also confident of a comeback this time. Meanwhile, the Congress is expected to trail this time, according to the exit poll predictions.
In 2017, Congress had emerged as the single largest party, winning 28 seats, but failed to form a government. Subsequently, the BJP, with 21 seats, teamed up with Conrad Sangma's National People's Party and Nagaland's Naga People's Front, secured a majority and came to power.
(Health warning: Exit polls often get it wrong)
The final results will be published only later in the day. However, you can track the live vote counting updates on the official website of the Election Commission -- results.eci.gov.in -- as well as, on the ECI app, available on Apple App Store and Google Play Store.
Here are the steps:
1. Visit the Election Commission website -- results.eci.gov.in
2. Click on the link that reads 'General Elections to Assembly Constituency March 2022'
3. Once the counting begins, you will be redirected to a new window. (As of now, it says: Results trends will start from 8 AM on 10th March 2022)
4. Select your preferred state.
5. The live results will be on your screen.