Nitish Kumar's JD (U) wins its first Manipur seat in 22 years, leads on 4 more
Mar 10, 2022 02:17 PM IST
The Janata Dal (United) last won a seat in the Manipur assembly in the 2000 state elections but has since then, drawn a blank. This time, the JD (U) fielded over a dozen sitting and former legislators inducted from the BJP and Congress.
GUWAHATI: Bihar chief minister Nitish Kumar's Janata Dal (United) on Thursday recorded its first win in Manipur in 22 years and is leading on four more seats.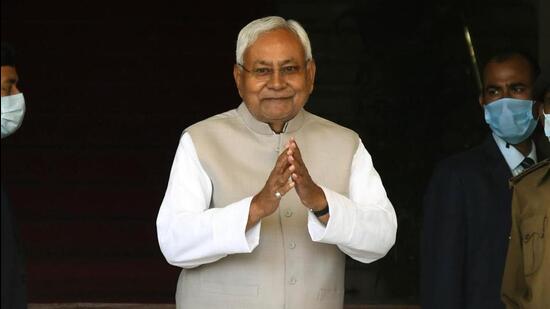 Ngusanglur Sanate, the JD (U) candidate from Tipaimukh constituency in Churachandpur district, won the seat with a 49% vote share, or 6,267 votes, defeating the Bharatiya Janata Party's Chalton Lien Amo who secured 5018 votes and 39% valid votes. The BJP inducted Chalton Lien Amo from the Congress in January this year but he could not retain his seat.
Though the JD (U) primarily has a support base in Bihar, the party isn't entirely new to politics in the northeast. The party did win one seat in the state in the 2000 assembly polls in Manipur. But it has failed to replicate that success in successive elections in Manipur. In the 2017 elections, it didn't field any candidate in Manpur.
In neighbouring Nagaland, the party won three seats in 2003 and won one seat in 2013. In 2018, the JD (U) won one seat, but the MLA, who was a minister in the state government, switched over to the ruling Nationalist Democratic Political Party (NDPP), which is supported by Bharatiya Janata Party (BJP).
The party had won seven of the 15 seats it had contested in the Arunachal Pradesh assembly polls in 2019 becoming the second largest party after the BJP, which secured 41 seats. But in 2020, six of the seven JD (U) MLAs switched sides to the ruling BJP.
This time, the JD (U) fielded candidates on 38 of the state assembly's 60 seats, including a dozen sitting and former legislators from the BJP and Congress.
Former Manipur police chief LM Khaute, who switched to JD (U) after failing to get a ticket from BJP, is leading in Churachandpur. Md Ashabuddin, who won as an Independent in 2017, and is contesting on a JD (U) ticket from Jiribam is also leading. The JD (U) candidate from Lilong, Md Abdul Nasir, and Kh Joykishan Singh from Thangmeiband, are also leading.