'Arvind Kejriwal the hope of crores... will be in bigger role': Raghav Chadha
Mar 10, 2022 06:50 AM IST
Punjab Assembly election results: AAP leader Raghav Chadha declared that the party is set to emerge as a major national force.
The Aam Aadmi Party is the 'natural and national replacement' for the Congress and party boss Arvind Kejriwal is 'the hope of crores of people', Raghav Chadha, the co-in-charge for the 2022 Punjab election, said Thursday hours before vote-counting was to begin. The AAP is expected to register its first electoral win outside Delhi with victory in Punjab, displacing the ruling Congress by a big margin. It is predicted to gather 40 per cent of the vote-share, according to a poll by Lokniti-CSDS and as many as 111 seats in the 117-member Assembly.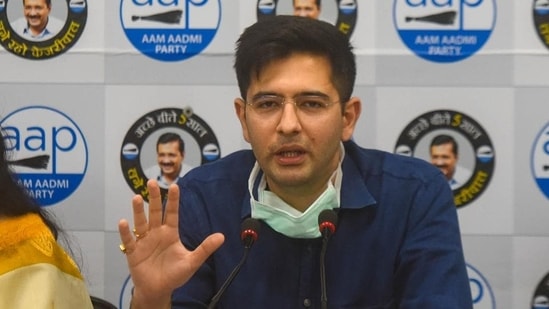 Full coverage: Punjab Assembly election
Speaking to news agency ANI ahead of the counting, Chadha also said Kejriwal would, if given an opportunity, be seen in a 'bigger role of Prime Minister' after the 2024 Lok Sabha elections.
"Arvind Kejriwal is the hope of crores of people. If God is willing and people give an opportunity, he will definitely be in a bigger role - that of the Prime Minister - soon. AAP will emerge as a major national political force," Chadha told ANI.
BJP to win UP, Uttarakhand; AAP to win Punjab; tight race in Goa: New exit poll
Chadha's optimistic comment comes amid expectation AAP will win Punjab with a thumping majority - similar to the last two Delhi polls, in each of which it claimed nearly 90 per cent of 70 seats, picking up 62 seats in the 2020 poll.
Since then Kejriwal has made no secret of his desire to become a national player and the AAP has made steps towards that goal in this round of state elections, putting up candidates in Goa and Uttarakhand, as well as Punjab.
The AAP contested the last Punjab election and did well, winning 20 seats, and this time around exit polls predict a much larger haul.
UP Election: 'Our fight has just begun…': Priyanka Gandhi on poll results
"Punjab polls show AAP has emerged as a national political force. It took BJP ten years to form its first government in a state. It is not even ten years since AAP's inception and we are forming government in two states. AAP will be Congress' national and natural replacement," Chadha declared.
Exit polls predict a weak performance for the ruling Congress in Punjab, where it battled a crisis for most of last year that led to Amarinder Singh resigning as chief minister and leaving the party to form his own and ally with the BJP.
Punjab Election: Arvind Kejriwal's AAP set for 1st win outside Delhi
Neither are expected to make major gains in this election.
The Congress and the Akali Dal, a former BJP ally that broke away after tension over the farmers' protests, are expected to fight it out for second place.
With input from ANI