'Congress will never learn...': Amarinder Singh's blast after Punjab disaster
Mar 11, 2022 02:14 PM IST
Punjab election: The Aam Aadmi Party secured a landslide win by claiming 92 of 117 seats and will form the next government.
Ex Punjab chief minister Amarinder Singh lashed out at the Congress Friday after spokesperson Randeep Surjewala blamed '4.5 years of anti-incumbency under Captain...' for the massive defeat to the Aam Aadmi Party in the 2022 Punjab Assembly election. Amarinder Singh tagged the Congress in his tweet and declared '... leadership will never learn' and reminded his former party that they'd also lost badly in other states yesterday.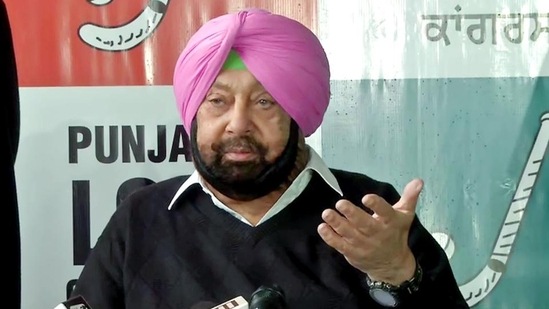 "The Congress leadership will never learn! Who is responsible for the humiliating defeat of Congress in UP? What about Manipur, Goa, Uttarakhand? The answer is written in BOLD LETTERS on the wall but as always I presume they will avoid reading it," Singh tweeted.
Stay tuned with breaking news on HT Channel on Facebook.
Join Now
Full list of winners for 2022 Punjab Assembly election
Speaking shortly after Arvind Kejriwal's AAP recorded a landslide victory - winning 92 of the Assembly's 117 seats - Surjewala yesterday claimed voters' ill-feeling against Singh, who quit the Congress in November, 'could not be overcome and hence people voted for AAP'.
"In Punjab, Congress presented a new leadership through Charanjit Singh Channi, who is (a) son of the soil, but the entire anti-incumbency of 4.5 years under Captain Amarinder Singh could not be overcome and hence people voted for AAP for change," Surjewala said.
The Congress was decimated in Punjab by the AAP. The party won 77 seats in the 2017 election but could only manage 18 this time after months of public hostilities and sparring between Amarinder Singh and state boss Navjot Sidhu, and later between Sidhu and Channi.
Punjab election: AAP tally biggest ever in the state
All three - Singh, Sidhu and Channi - lost their individual races as well; Amarinder Singh lost his Patiala (urban) seat, Sidhu lost from Amritsar (East), and Channi lost both Chamkaur Sahib and Bhadaur, in trends that underline voters' disenchantment with the Congress in general.
Punjab polls: Charanjit Singh Channi, who lost from both seats, resigns as CM
Singh launched his own party - the Punjab Lok Congress - after his acrimonious exit from the Congress, and that also flopped; it won zero seats. The former chief minister had also allied with the BJP and that, too, was a disaster, with the pair getting just two seats between them.
Singh led the Congress to win in 2017, engineering a swing of 31 seats to defeat the BJP and Shiromani Akali Dal, which were allied at the time.
The Aam Aadmi Party's Bhagwant Mann, who recorded a nearly 60,000-margin win from Dhuri, will be the next chief miniser of Punjab. Mann said he plans to meet Kejriwal in Delhi and will announce his swearing-in date this evening.