AAP conquers Punjab: How has Kejriwal's party fared in previous polls
Written by Harshit Sabarwal | Edited by Chandrashekar Srinivasan
, New Delhi
Mar 10, 2022 03:39 PM IST
The AAP is set to win nearly 80 per cent of the Punjab Assembly - a sweep similar to their 2015 and 2020 Delhi election wins.
The Aam Aadmi Party (AAP) delivered on surprising exit poll predictions Thursday and romped home to win the 2022 Punjab Assembly election. Arvind Kejriwal's outfit is leading in 92 constituencies in the state - considerably more than the 59 it needs to secure a majority in the 117-member Punjab Assembly. The emphatic win also means the ruling Congress has been left floundering, with outgoing chief minister Charanjit Channi having lost both seats he was contesting from and the party's state boss, Navjot Sidhu, beaten in Amritsar (East).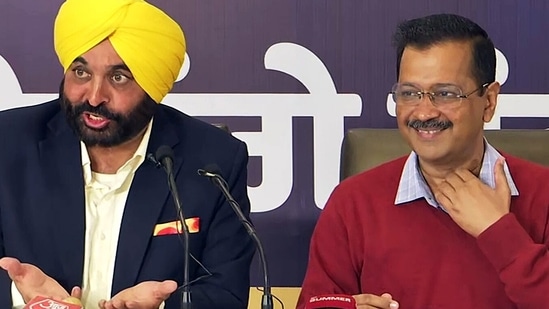 Once confirmed (and that will be a matter of time) this will be the AAP's first state win outside Delhi - a striking record for a political party that is just in its tenth year.
Click here for all LIVE updates on Punjab elections results
The fact AAP won Punjab is perhaps surprising - although they did well enough in the 2017 election (contested 112 seats, won 20) to serve as a warning to their rivals.
What is the highlight of this win, though, is the level of dominance and that is, increasingly, no longer a surprise when it comes to the Aam Aadmi Party.
The AAP is set to win nearly 80 per cent of the Punjab Assembly - a sweep similar to their 2015 and 2020 Delhi election wins.
In 2015 the party won 67 of Delhi's 70 seats - 96 per cent - and 54.3 per cent of the vote share. In 2020 it won 62 of 70 seats - 89 per cent - and 53.57 per cent of the vote share.
So it is possibly no surprise the AAP has swept Punjab as it has. A summary of exit polls suggested they would win between 51 and 111 seats with a vote share of 40 per cent.
What worked for the AAP?
Kejriwal rode to power in Delhi (twice) on the back of populist promises like free water and electricity, as well as improved healthcare and education. Not unfamiliar words to voters, but the different was that the AAP delivered, or was at least seen as delivering, on its vows.
And when the Delhi chief minister made the same promises to Punjab voters, in addition to talking about a drugs-free state, they listened and, importantly, backed him.
The popularity of Bhagwant Mann, the incoming chief minister, of course, helped; Kejriwal and Mann conducted extensive campaigns across Punjab in the run-up to polls.
Also Read| Kejriwal congratulates Punjab for 'revolution', Siddhu accepts 'voice of people'
The combination of a proven track record and a popular face is a potent one in any election, as the AAP demonstrated today.
It also helped that the ruling Congress was beset by internal bickering, with state chief Navjot Sidhu needling and provoking (outgoing) chief minister Charanjit Channi almost as much as he did former chief minister Amarinder Singh.
The public barbs and bitter exchanges between Singh and Sidhu, and then Channi and Sidhu, surely did not help the Congress. And the fact that all three - Amarinder Singh, Charanjit Channi, and Navjot Sidhu - have lost (Channi from two seats) is a telling point.
Also Read| Kejriwal posts a photo with Mann after AAP sweep in Punjab, says...
Ultimately then, the promises of development and the lack of a viable option (it was either the AAP or the Akalis) played into the hands of Arvind Kejriwal, who was quick to hail the people of Punjab for engineering a 'revolution'.
"Congratulations to Punjab for this revolution," he tweeted, while his deputy in Delhi, Manish Sisodia, called it 'the voice of the people'.
Mann - the presumptive chief minister - delivered an emotional speech this afternoon, in which he called on the people of Punjab to 'forgive personal attacks against him'.